Perfect Patients Online Review Monitoring
With Perfect Patients Review Monitoring, you receive instant text and/or email notification of all new chiropractic patient reviews, see all your reviews right from your website dashboard, and automatically share the best ones to your website and social profiles.
Master Your Online Reputation
Online patient reviews are vital to your digital reputation. Search engines use these reviews to determine your website authority and can even play a role in rankings. Most importantly, prospective patients use them to determine if you are the right chiropractor for them. That's why it's crucial to stay on top of your patient reviews on your Google Business Profile, Facebook, and beyond.
Do you have a system in place for checking your online reputation? Do you know how you stack up against the competition? Can you determine when you need to ramp up your efforts to get more reviews? Are you responding to every new review you get?
Follow Your Stellar Online Reviews In One Dashboard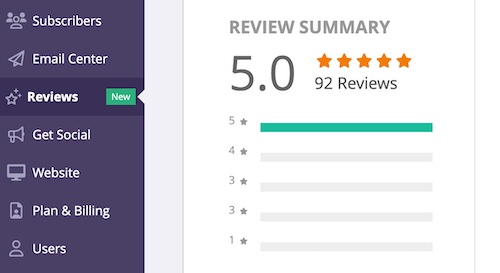 Tracking your online reviews is a crucial digital marketing strategy. However, it can be a challenge to keep up with all the major review sites. It takes time to visit each site, log in and read each new patient review.
Staying on top of your online reviews means you know when new reviews are posted and are able to respond to them in a timely manner. In fact, studies show that 89% of consumers are likely to use a business that responds to all of its online reviews.

Chiropractic Patient Review Monitoring:
See all your online reviews at-a-glance in your Perfect Patients dashboard
Get instant text and email notification of positive and negative reviews
Automatically share 5-star reviews to your website, Facebook, and Twitter
View performance reports to see how your online reputation is progressing
Rest easy knowing that you'll have everything you need to respond to any new reviews anytime. Plus, you can quickly share your best reviews on your website and social profiles with just a click of a button.
That's the kind of social proof that helps new patients choose you!
Review Monitoring is included in our Premium plan and available as an add-on to Essential. Book a call to learn more.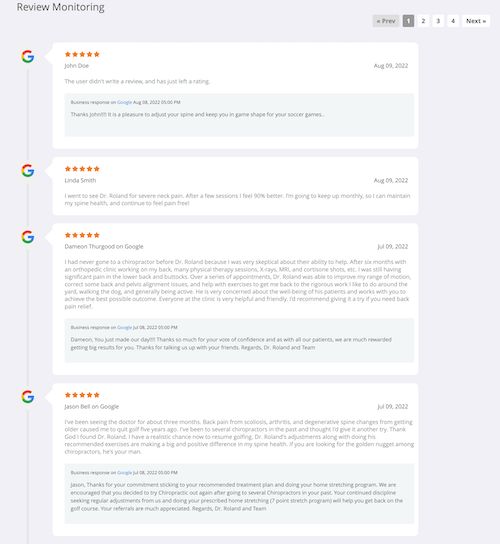 Go Beyond Reputation Monitoring
Want to get a steady stream of new reviews on auto-pilot? Want to take your online reputation to the next level to boost your rankings, blow past the competition, and get more new patients? Don't just monitor your patient reviews, respond to them automatically.
Check out Get Reviews – the review automation platform that's included in our Ultimate plan and available as an add-on to all others.