High-Converting Website
A custom website designed to showcase your practice's unique selling points leads to more new patients choosing you.
What is a
high-converting
website?
A high-converting chiropractic website is one that is designed to appeal to your ideal patient and effectively answers the question:
"Are you the chiropractor for me?"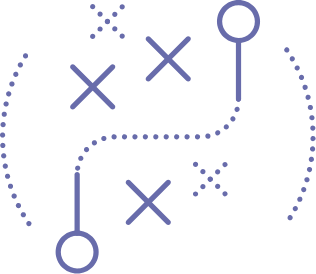 Our Strategy
A Perfect Patients chiropractic website combines the art of web design with the science of conversion to create a practice website that is uniquely yours. And while your practice website will appeal to your ideal patient and showcase your practice's personality, all Perfect Patients websites have a few critical factors in common to ensure high conversion rates:
Responsive Design
With nearly 60% of online searches occurring on mobile devices, a responsive website is no longer an option, it's a requirement. Not only do you need to have a website that prospective patients find user-friendly on their smartphone, Google actually gives preferential rankings to mobile-friendly websites in mobile search results.
What is a Responsive Website?
A responsive website automatically adjusts to deliver the design that is appropriate for the device it is being viewed on. The images, content, menu bar – all adjusted for optimal user-experience on any screen.
Professionally Written
Custom Content
Your website design is what initially grabs a prospective new patient's attention. Your website content is what encourages them to stay on your site and, ultimately, choose you as their new chiropractor. So it's no surprise that we take chiropractic website content very seriously around here.
One of the things that makes the Perfect Patients website service unique is our content interview process. Through a 45-minute telephone interview, we learn what makes you and your practice special. Then our professional writing team turns that interview into engaging content that tells your prospective patients what they need to know to answer the question, "Are you the chiropractor for me?"
Important Components of a
High-Converting Website
From your practice logo to photos of your office, there are several other components
that make up a successful chiropractic website. Explore the pages to learn more.