Our Story
How the Perfect Patients Chiropractic Website Service Came to Be
Meet Steve & Bill
Perfect Patients is a collaborative effort between Steve Anson, the software expert from Australia, and Bill Esteb, the chiropractic content expert from Colorado.
Even though they are separated by the Pacific Ocean, they share a passion for chiropractic and a belief that the world would be a better place if everyone were under chiropractic care.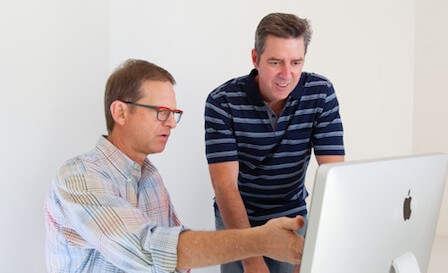 How It All Started
Back in 2003, Steve set out to create a website for his wife's chiropractic practice. Disappointed in what was available specifically for chiropractors, he knew he could create something better.
He invested in a software platform and began his search for content.
He remembered resonating with a talk given by Bill Esteb at the Australian Chiropractic Association several years prior.
"He called me out of the blue and introduced himself," remembers Bill. "I get all kinds of business offers and new product ideas, but this was different. We talked for almost an hour and I could tell this was the real deal. I suggested that we get together when I was to be in New Zealand three months later. That September we sat in my hotel room and talked for three days about creating one of the best chiropractic website companies. That's when Perfect Patients was born."
Perfect Patients Today
Years later, Perfect Patients is an amazing team of digital marketing professionals, known around the world as one of the most fully-featured, service-oriented chiropractic website companies.
Each month we launch new websites for chiropractors and thousands of others have trusted Perfect Patients to manage their practice website and online presence for years.