Chiropractic Websites That Turn Visitors Into New Patients
Capturing that special something that connects with new patients so they choose you.
"Another New Patient Appointment Request email! We are ON FIRE with our website. I've never seen a month or time frame where so many of these appointment requests just keep coming." -Dr. Tony Ebel
Do you ever ask yourself…
How do I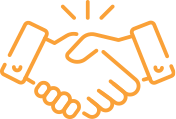 Let's face it – you didn't become a chiropractor to worry about website design, digital marketing, or SEO.
You got into chiropractic to help people. And our mission is to help you.
Perfect Patients builds custom, high-converting chiropractic websites and digital marketing strategies so you can take care of your patients – and not spend your time wondering where you're ranking on Google, how many online reviews you have, or if your social media strategy is working.
Our job is to keep your schedule full with the types of patients you love seeing!
"Our website consistently ranks near or at the top of Google for keywords in our area. Perfect Patients goes above and beyond to help us achieve our goals." -Dr. Pierre Paradis
GROW YOUR PRACTICE
Chiropractic digital marketing that puts patients first
To grow your practice today, it takes more than a good location, skilled hands and great results. You need a marketing partner passionate about chiropractic and deeply committed to your success.
This is why our co-founder Bill Esteb started Perfect Patients in 2005. He saw that chiropractors weren't getting the specialized help they needed for their websites and marketing.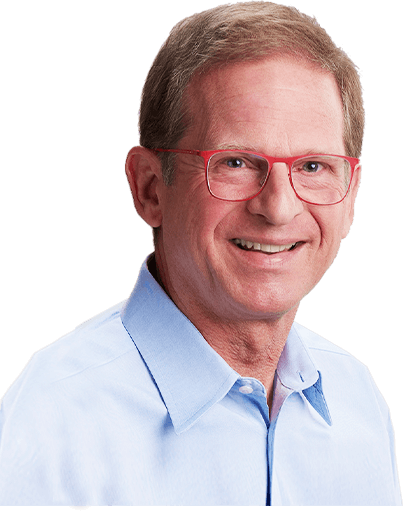 We help grow your practice – so you can help more patients
For almost two decades, we've led the chiropractic digital marketing industry with our Five Factors of Digital Marketing Success® approach that includes: high-converting websites, traffic (SEO and PPC), email marketing, 5-star online reviews, and social media.
We're passionate about helping you spread the word about chiropractic and dominate online in your new patient drawing area. And we're equally passionate about having the best customer service in the industry. This is just part of the reason the average client stays with us for 8+ years.
Industry-leading team, world-class results.
4264

Doctors we serve worldwide

78.9

% Premium clients ranking Top 3

1M+

New patient bookings generated

17

Years as top chiropractic marketing provider

8.4

years Average length of time a client partners with us

5608

Patient-generating websites created
FREE EBOOK
10 Ways to Get New Patients from the Internet
Ready to put the internet to work for you and get new patients—without spending thousands on ads or spending half your day on social media?
Grab the guide and discover 10 Ways To Get New Patients from the Internet (that are mostly free!).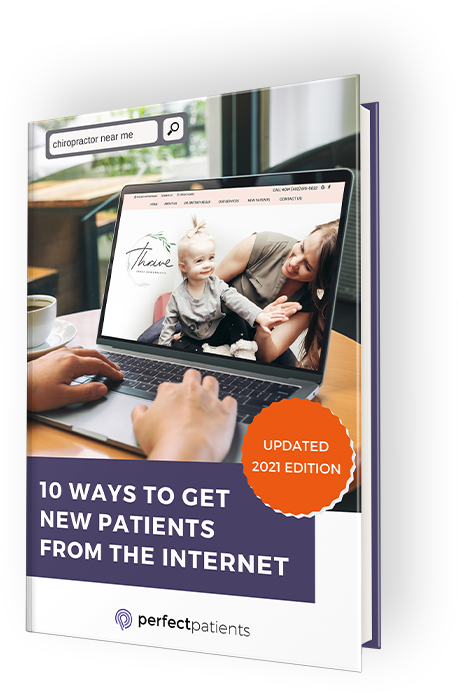 "WOW!! The eBook is awesome. The stats provided help me make the best marketing decisions for the practice. The information is clear and to the point." -Kristie, Novo Chiropractic
Dominate online with a high-converting website and marketing plan
ESSENTIAL PLAN The foundation for referral-based practices
POPULAR FEATURES:
Custom website design & hosting
Professionally written content
Essential on-page SEO
Monthly patient newsletter
New Patient Survey
PREMIUM PLAN For ambitious practice growth & new patient results
ALL THE FEATURES OF ESSENTIAL, PLUS:
Professional photography
Social media content & scheduler
Advanced SEO
Dedicated Account Manager
New Patient marketing strategies
ULTIMATE PLAN For fast-growing practices in competitive jurisdictions
ALL THE FEATURES OF PREMIUM, PLUS:
Area exclusivity
Dedicated SEO Specialist
Call tracking & conversion coaching
Advanced link building
Pay-per-click ad setup
What chiropractors are saying about Perfect Patients
"Keep doing what you are doing… I am completely booked and cannot take anymore new patients, but please don't change a thing."
Dr. Stacy Gray
"In less than 6 weeks we've gone from page 14 on Google to page 1!"
Dr. Ian Sheppard
"Our business has seen a definite boost—it seems like the new patient requests have been almost daily!"
Andrea Biggie
Ready to Dominate Online and Grow Your Practice?
Want to concentrate more on Mrs. Smith's sciatica flare-up than you do on getting new patients?
Want to feel proud every time you give someone your URL?
Want to know potential patients can Google "Chiropractor near me" and your practice shows up in the top results?
Want to have someone take all of this off your plate?
Great, doctor. You're in the right place.