You might feel helpless as appointments are cancelled or you close your practice doors temporarily to practice social distancing.
But one way to stay top-of-mind with your patients and help them maintain healthy habits is through social media. Especially now, your patients are spending a lot of time on social media sites like Facebook and Instagram. It's how many people get their news and stay connected with friends and family during this period of isolation.
If you haven't been active on social media, now is a good time to jump in. And if you are active on social media, but looking for new ideas as to what to post, continue reading for COVID-19 Facebook post suggestions and ideas to keep your patients engaged.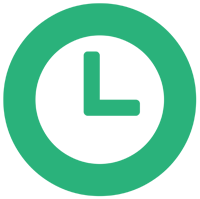 1. Over-Communicate Your Operating Hours
Everything is in flux right now. Regulations and personal choices change day-to-day. Be sure to keep your patients up-to-date on your current operating hours on your website and social media. Let them know what you're doing to help keep them safe (extra cleaning measures, spacing out appointments, etc.) and how they can schedule an appointment. Make it as easy as possible.
Also, if you haven't yet added a COVID-19 message to your website, now is the time. If you are a Perfect Patients client, click here to select a message and we'll add it to your site.
---
2. Express Your Gratitude
We're all being inundated with statistics, fear, and anxiety-provoking information. As Robin Sharma wisely claims, "Gratitude is the antidote to fear." So, be a shining light during this time. Get in the habit of sharing a gratitude post at least once per week. (#ThankfulThursday perhaps?)
And encourage your followers to comment with what they're thankful for. You'll be amazed at the positive impact this can have on not only your followers, but yourself. Let's surround ourselves with gratitude and get through this together.
---
3. Support Your Community
A silver lining in times of crisis is often seeing how communities come together to support one another. Don't be shy about sharing what you're doing to help others or spotlight staff members or patients who are doing good. Give a shoutout to all the "essential" workers in your community, spotlight a patient who is doing something remarkable, or find ways to support other local businesses.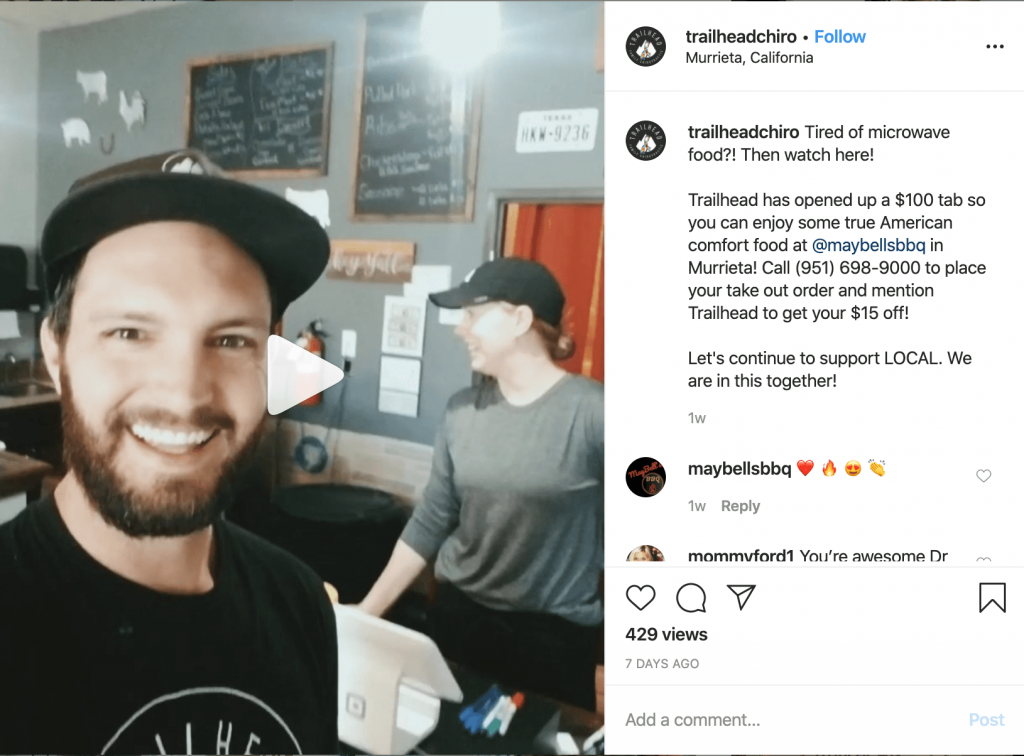 Dr. Chris Boman at Trailhead Family Chiropractic came up with a clever way to give back to his patients while encouraging them to support local businesses. He opened up tabs at local restaurants and coffee shops, say $100. He then posted on social media that if his followers visit one of those establishments and mention his name, they'll use his tab to give the customer $10-$15 off their order.
Another way to promote community engagement is to partner with other local business owners to do a social media giveaway. You all cross-promote each other via the giveaway post, get a ton of engagement from your followers, and spread some joy in the process!
Social media is also a great place to share community resources that might be of value to your followers.
What is your town doing to help those affected by job loss?
Are there online resources for kids that your followers who are now working from home with their kids would find helpful?
Share, share, share!
---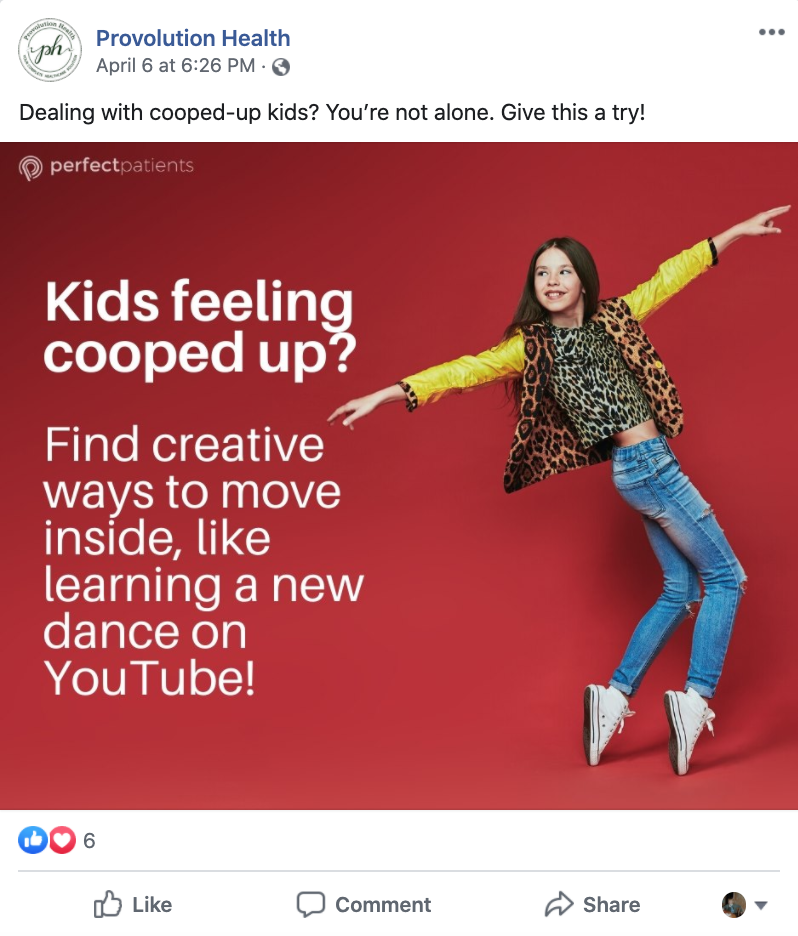 4. Relevant Health and Wellness Tips
In addition to videos, posts with eye-catching graphics and health and wellness tips are an easy way to stay connected with your patients.
Keep it relevant to what your patients need right now and ask for engagement (i.e. "Share your favorite healthy recipe below!" Or "How are you keeping your kids active at home?"). This is the time to foster a sense of community among your social media followers.
Below are five days of posts you are welcome to share on your practice Facebook page to help get you started. (These weekly posts are included in our Premium service.)
---
5. Facebook Live Video
Be present for your patients by stepping in front of the camera on social media. Share exercises and stretches that your patients can do at home. Offer your best tips and tricks for staying active and eating right. Your patients will appreciate that you're using your platform to spread positivity during these troubled times.

Facebook and Instagram both have "live" video options that are great for reaching your patients. You can also pre-record a video and post it.
We know that stepping in front of the camera can feel awkward. But you're not looking for perfection here. You're looking to show up as human for your patients. Include your kids or spouse to help you demonstrate stretches or exercises. Have fun with it.
Share your videos at the same time each day so your followers have something to look forward to. This is a time to help and a time to be understanding. Take this opportunity to be an oasis of calm during the storm.
Video Topic Ideas: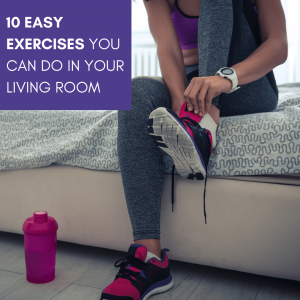 10 Easy Exercises You Can Do in Your Living Room
Record a quick video to share with your patients showing them 10 simple exercises they can do at home. They might need some encouragement to stay active right now. Take this opportunity to be that positive, encouraging voice.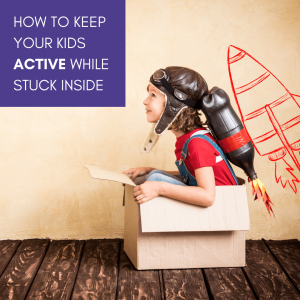 How to Keep Your Kids Active While Stuck Inside
Parents may be running out of clever ideas for keeping their children active. Share a few specific kid-friendly exercises or indoor activities that will get their energy out and keep them healthy.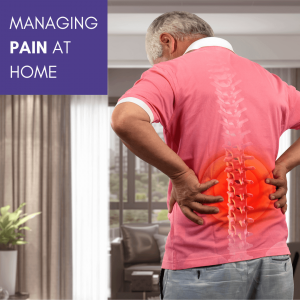 Managing Pain at Home
This topic is an important one right now. Your patients may not be coming in to see you, but they're likely still experiencing aches and pains. Some recommendations for managing pain at home directly from their trusted chiropractor is probably just what they need!
Healthy Snacks to Boost Your Immune System
Now, more than ever, your patients want their immune systems to be as strong as possible. Give them a few suggestions for easy, healthy snacks that will give them the boost they're looking for.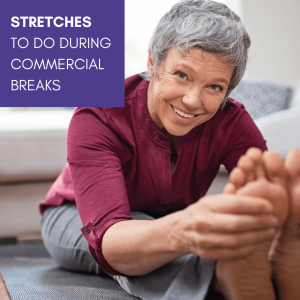 Stretches to Do During Commercial Breaks
(Because, let's face it, we're all watching a little more TV these days.)
Record a quick video to share on Instagram and Facebook demonstrating your favorite stretches. Then challenge your followers to stretch during each commercial break of the next show they watch. Ask them to comment when they've done it to encourage engagement.
Promote that you're going to be doing a live video in a post the day before using the graphics above.

What Not to Post
Keep your social media profiles a place of positivity. Don't post the current COVID-19 case stats or death rate. Your followers get enough of that from the media. (And you probably don't need to remind your patients how to wash their hands!)
As always, be sensitive to HIPAA and privacy concerns when sharing online.
The Perfect Patients Premium plan includes weekly social media posts that are relevant and engaging. Click here to learn more.