Why Citations Matter For Your Online Presence
Citations are online listings on third-party websites that show your practice information. Housed on well-established platforms (Yelp, for example), citations help boost credibility in Google's eyes. They increase the search engine's confidence by verifying your practice information and service categorization.
These listings are part of a geo-specific community, which is why they can improve your local search engine rankings. This means that when a prospective patient searches for a chiropractor in their area, there's a better chance they will find you.

The Importance of NAP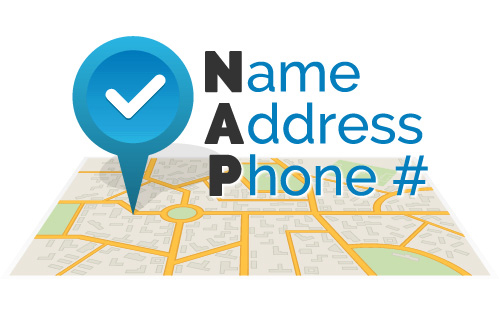 The trinity of information known as NAP (Name, Address, and Phone Number) is the most important factor in ensuring an adequate listing. While it may sound simple enough, it's critical to have an accurate listing of your practice name, address, and phone number.
NAP schema markup acts as a digital "business card," as it tells search engines the official location and contact information for your office. In essence, it validates your chiropractic practice in the eyes of these online platforms so they can display your information accurately in local search results.
As meticulous as search algorithms are, there's no such thing as a minor NAP inconsistency. In fact, one inaccurate piece of information could prevent search engines from showing your chiropractic listing altogether as they won't risk their reputation by showing incorrect information. Google may even see the following three addresses as potentially different practices:
123 S. Main Street, Suite A
123 South Main Street, Suite A
123 South Main Street, Ste. A

What We Do
At Perfect Patients, we not only take care of all your listings for you, we ensure they are consistent across all citation websites. This feature helps you leverage location-based platforms to bring new patients through your office doors.
Review our plan table to see which of our three service plans will help match your new patient goals.
Has your practice moved?
No problem! Our NAP change service helps you keep all your citations current. Updating your NAP across all of your listings is a big, but necessary, undertaking to ensure the search engines continue to display your practice information in search results and that new patients can locate your practice without confusion. Call us today to order a NAP change.