Where is local online search heading?
After taking a year off, the latest version of the Local Search Ranking Factors survey has been released. Sourced from dozens of local search experts, the survey helps businesses understand the trends in local search and what areas they should focus on to improve their rankings.
The survey is divided into two sections: Local Pack Ranking and Organic Search Ranking. Below is a brief outline of the results.
Top 5 Local Pack Ranking Factors
When a user performs a local search (i.e. "chiropractor Ottawa") a list of businesses is displayed below the paid ad listings. Known as the "Local 3 Pack," this list shows a Google map of three businesses accompanied by their average Google review rating and basic contact information.
This is how the Local 3 Pack appears on Google: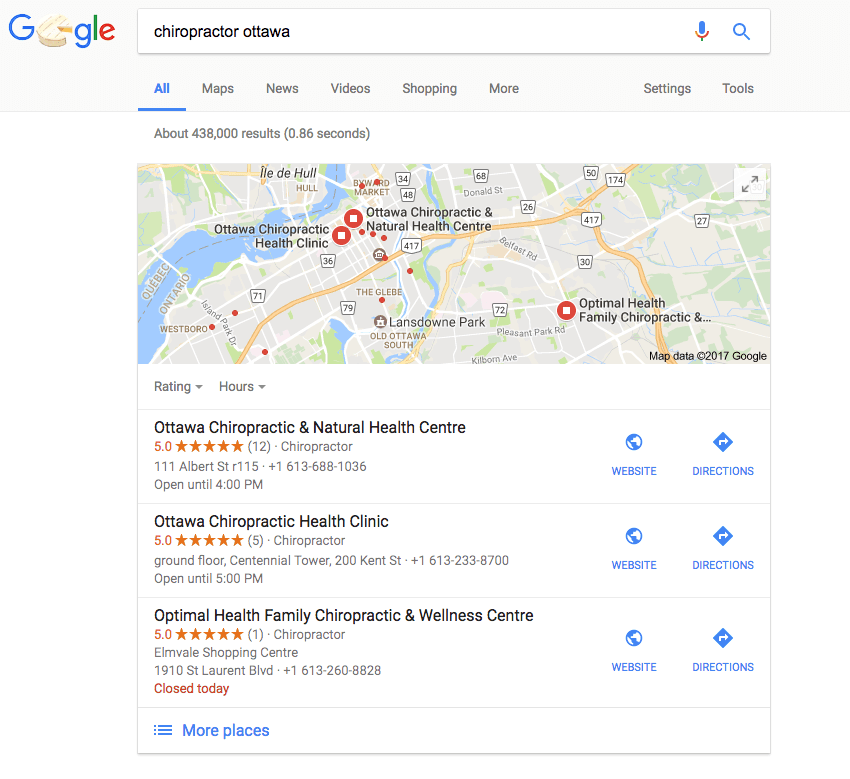 According to the survey, here are the top five Local Pack ranking factors, in order of importance:
Proximity of address to the searcher
Physical address in the city of search
Proper Google My Business categories
Quality of inbound links to the domain
Consistency of contact information on listing sites
The Implications
While the results remain relatively consistent with past surveys, there are a few details to take note of. For example, accuracy and consistency on listing sites are still important. But inbound links and quality reviews have increased in importance.
The conclusion? Minimizing negative feedback and gaining more five-star reviews could increase your competitive edge even more.
As SEO expert Darren Shaw explains:
"The emphasis on citations has seen some decline (certainly in favor of links), and rightly so. In particular, there is an increasing focus on quality over quantity."

Top 5 Organic Ranking Factors for Local Searches
The organic search results are the list of websites displayed under the Local 3 Pack business listings.
Show up in the Local 3 pack and rank on the first page of organic listings, and you'll be dominating Google's real estate.
Here's how the organic search rankings appear on Google: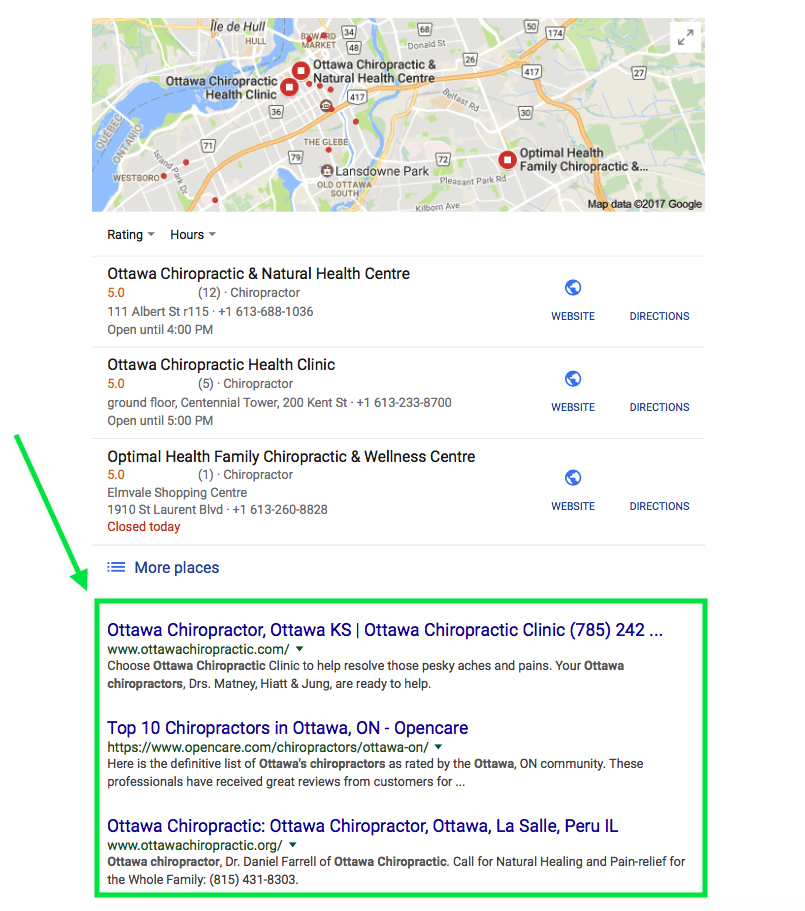 According to the survey, here are the top five Local Organic ranking factors, in order of importance:
Quality and relevance of inbound links
Diversity of inbound links
Keyword relevance to overall website content
Click-through rate from search results
Mobile-friendly website design
The Implications
Google still leans heavily on links as the leading measure of a business' prominence. In effect, the local search practitioners that invest time and energy into securing quality and relevant links are reaping the greatest rewards.
These days, link building isn't supposed to be easy. Acquiring high-quality, relevant links demands a manual outreach strategy. Here are a few tactics to consider in your link building efforts:
Sponsor or speak at an event
Network with other local businesses, organizations, or influencers
Blog regularly and share the blog links on social media
The State of Chiropractic SEO
With the ever-shifting nature of Search Engine Optimization, it's as important as ever to have chiropractic SEO specialists managing your website. If you're a Perfect Patients client, rest assured that we stay on top of the latest SEO trends.