Social media marketing has become an increasingly popular way to engage and educate your patients.
Now more than ever, patients are searching for practices on their socials to validate the practice and review their engagement. This is a final validation check some patients will make before contacting you to book an appointment.
Where are my new patients coming from?
In terms of new patient traffic, your website still stands as the dominant source. This is why your website should be high-converting and strategically designed to attract and convert new patients, just like our favorite chiropractic website designs at Perfect Patients.
In reviewing data of over 32,000 internet users, we found over 89% of new patient traffic came through search engines like Google.
So, while social media may not be the primary channel to grow your new patients, it is a channel that more and more patients are "checking" as part of their research when on the hunt for a new chiropractor. It plays a very important supporting role in building trust with prospective patients.
At the end of the day, you want to maximize new patient conversion and to do this, you're going to want to have a social media presence.
What are the benefits of having a social media presence for a Chiropractor?
Given that 1.73 billion people use Facebook alone, every day, and spend just under an hour on the platform, there's got to be some benefit to you as a business owner.
Here are some of the benefits of having a social media presence:
It builds your brand recognition
It creates a sense of community and increases engagement between your patients and you
Might benefit your website's SEO by sharing links to your website and encouraging traffic to your site
You can easily publish notices and share important information about your practice
Builds trust in your brand
Strengthens your overall online presence
Now all this sounds well and good if you have the time to think of creative social media content, create graphics and write content, and then schedule it each day… But what if you don't have the time?
Good news… Perfect Patients understands the struggle to come up with engaging content, so we recently launched our new and exclusive Social Media Content and Scheduling Platform.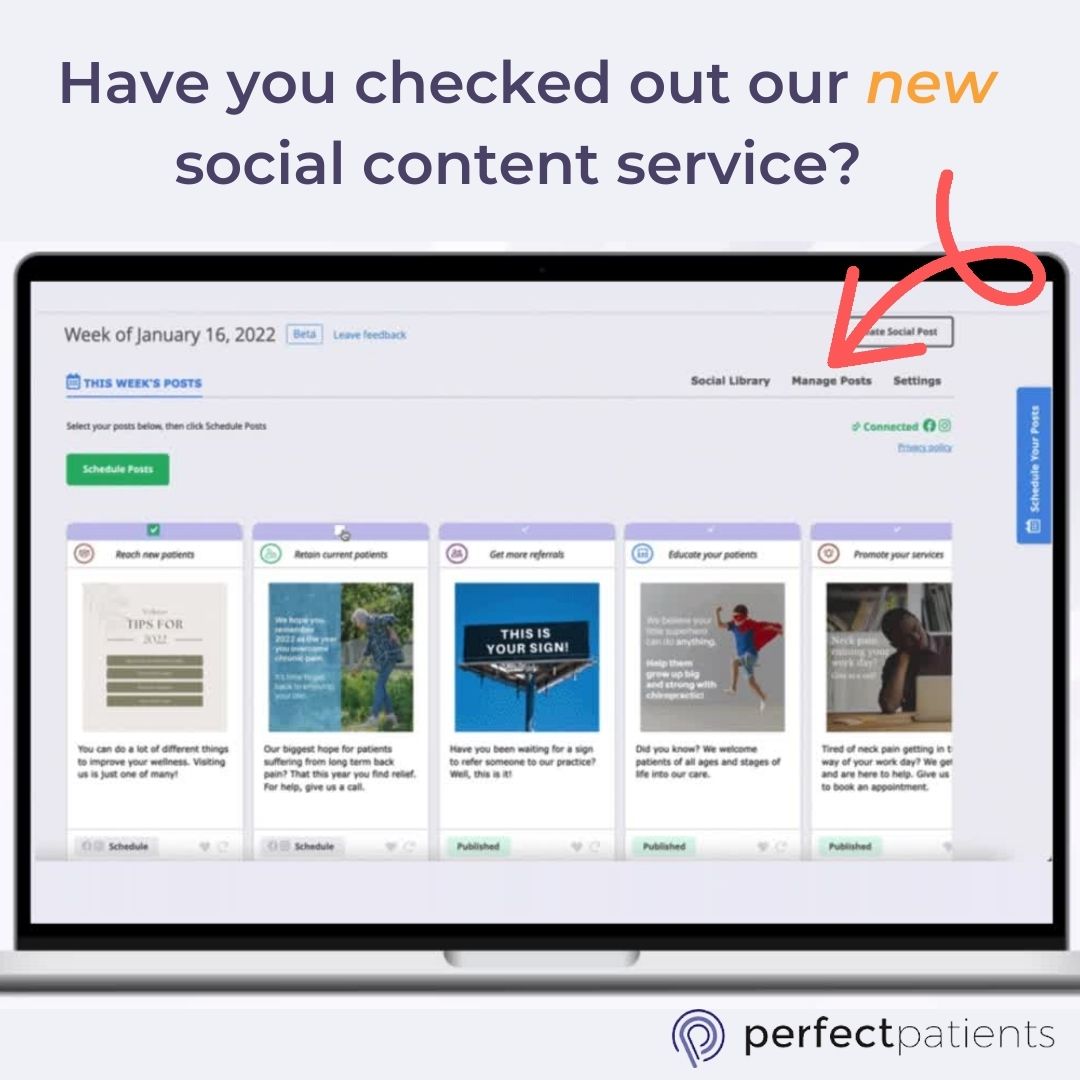 It's a unique platform where we create engaging posts for you and provide an easy scheduling tool. All you do is simply approve the posts and pick the day and time you want them to publish!
The best part – It's effortlessly integrated with your Facebook AND Instagram accounts.
No need to jump between your phone and between platforms, you just hit the publish button and we take care of the rest.
See Our Social Content Platform in Action!
You can take advantage of our social media service included in our Premium Plan. Or, you can add it to your Essential Plan for a small fee each month.
Not a Perfect Patients client? That's okay, you too can use our Social Media service from only $49 per month!
To maximize your new patient results, you should consider our website and marketing packages for a comprehensive marketing strategy including the social media service (in our Premium and Ultimate Plans).
Ready to increase brand awareness, capture more new patients and have long term trusting relationships with your patients?