No, these aren't the questions pondered by monks sitting in silent meditation! These are the questions we imagine when designing your practice website.
Why Am I Here?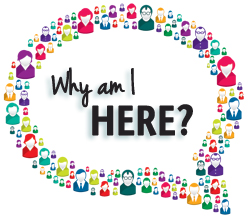 There are two main populations to which we are sensitive. New patients usually enter your website through the home page and main website navigation. This makes your home page, doctor biography, what to expect and similar pages very important from a new patient perspective. We use these pages to reduce apprehension, share your philosophy and urge prospective patients to pick up the phone and call you.
The other constituency is currently active patients. These individuals visit your newsletter, blog posts, eLearning and other "internal" pages of your website. Our mission here is to make these pages relevant and compelling while affirming their decision to consult your practice.
What Do You Want Me to Do?
For new patients, the answer is simple: call your practice and make an appointment to begin care. Everything a prospective new patient encounters on the home page and other key pages is designed to urge them to take action.
As for currently active patients, we want them to languish on your website. Explore every crack and cranny and choose chiropractic as a long-term strategy to keep the entire family happy and healthy.
We've adapted your practice website in the same way you adapt your practice procedures based on whether you have a long-term once-a-monther or a new patient.