As chiropractic website search engine optimization becomes increasingly important to the new patient marketing of a chiropractic practice, we've discovered an unfortunate phenomenon that affects about 12% of our clients. We call it the No Man's Land Factor.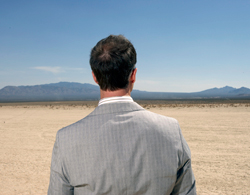 When choosing a practice location, few chiropractors consider online search engines. Instead, other factors take center stage, such as population density, drive by traffic, proximity to other chiropractors, parking, signage, monthly rent and the like. However, these days, ignoring search engines when situating your practice can dramatically affect the ranking of your practice website and the results it produces!
This can occur when a practice has a physical address on the furthest edge of a major-sized city. Even if the site ranks well for the term "mycity chiropractor," the physical location becomes a major hurdle as potential new patients disqualify themselves due to distance to your practice. This is why we occasionally see websites ranking well in search engines, enjoy lots of website traffic, but get a low number of new patients from it.
The good news is that as the Google algorithm gets "smarter" (and it does with every passing day) and more people use mobile devices to search the Internet (currently about 17% and growing) we should see a lessening of the No Man's Land Factor.