Your chiropractic website acts as a virtual front door to your practice.
Potential patients often turn to the Internet to research their options before choosing a healthcare provider, and your website is your opportunity to showcase what sets your practice apart.
Already this year, we've seen many brilliant chiropractic website designs that do just that – they speak to the doctor's ideal patients, ease fears, and authentically represent the practice.
As a chiropractor, your website design should do more than just look good. It should effectively communicate your value, demonstrate your expertise, and cultivate trust.
Let's dive into the critical elements of a compelling chiropractic website and the best chiropractic website designs of 2023. ⬇️

#1 Attracting Ideal Patients
Every chiropractic practice has a specific target audience – it could be athletes, pregnant women, seniors, or even office workers suffering from ergonomic stress. Your website design should communicate to this audience clearly, indicating that you understand their needs and have the expertise to address them.
Example: Thrive Family Chiropractic has done an excellent job with their website. They specialize in prenatal and pediatric care, and their site uses a soothing color palette of soft pastels, images of happy mothers and children, and content that speaks directly to the concerns of expectant mothers and parents.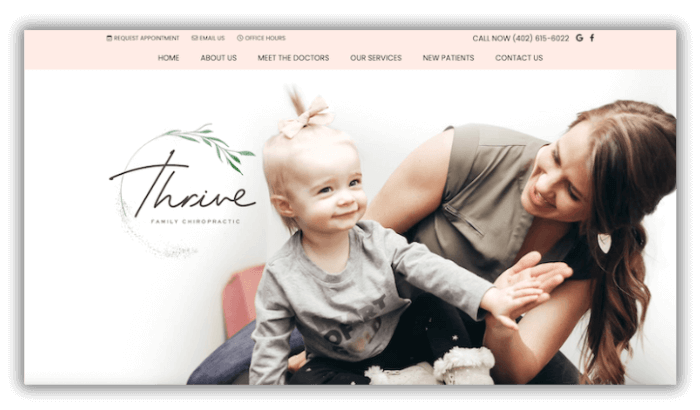 #2 Showcasing Practice Personality
Your website should reflect your practice's personality and core values. The tone of your content, the colors, fonts, and images you choose, should all be aligned with your practice's ethos.
Example: Van Every Family Chiropractic Center's website is the epitome of personality! From the bright colors to captivating design elements and the photos of the friendly staff seeing happy patients, this website puts the practice's personality front and center to attract their ideal patients.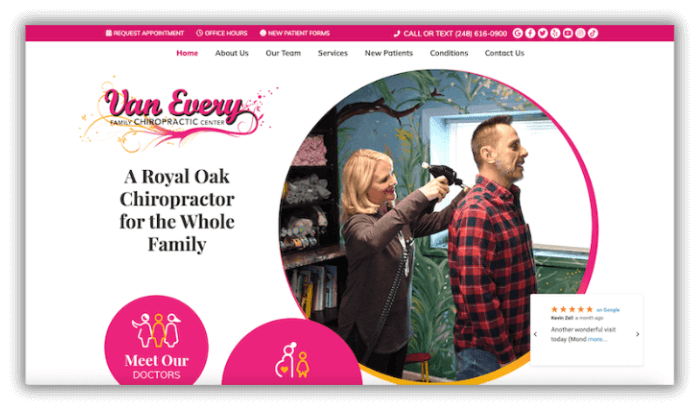 #3 Calming Fears
Many people are nervous about seeking chiropractic treatment, and your website can help to calm their fears. It's essential to create a friendly, welcoming digital space, and ensure your content explains treatments clearly and emphasizes your patient care philosophy. Photography of the doctor smiling with patients is a good way to put website visitors at ease, as is showcasing awards and other social proof.
Example: Damato Chiropractic Center of Glastonbury has a website that exudes calm and reassurance. With a tranquil color scheme, photos of the doctors smiling with patients, patient testimonials, and prominently displayed "Best of" award, they successfully alleviate any apprehension potential patients might have.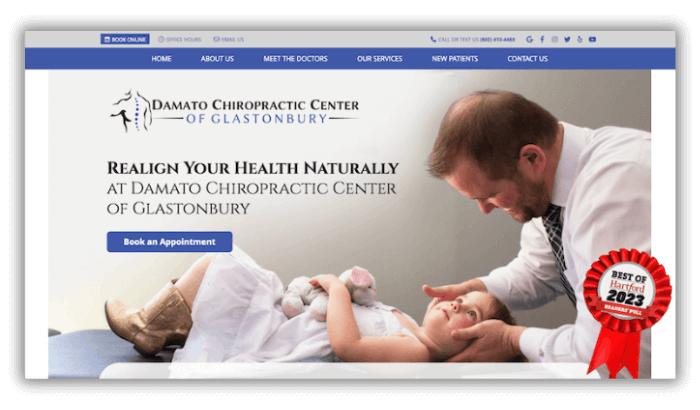 #4 Showing Up Authentic
Authenticity is key in healthcare. Your patients want to know that you are real people who genuinely care about their health. Include photos of your team, talk about why you are passionate about chiropractic care, and use patient testimonials to show the impact of your work.
Example: Mustard Seed Chiropractic features real-life photos of the caring team interacting with patients, content that speaks to their ideal patient and exudes their practice philosophy, and their social media presence is engaging and uplifting. They've created an authentic, trustworthy digital presence that resonates with visitors. And the number of new patients they're seeing proves it!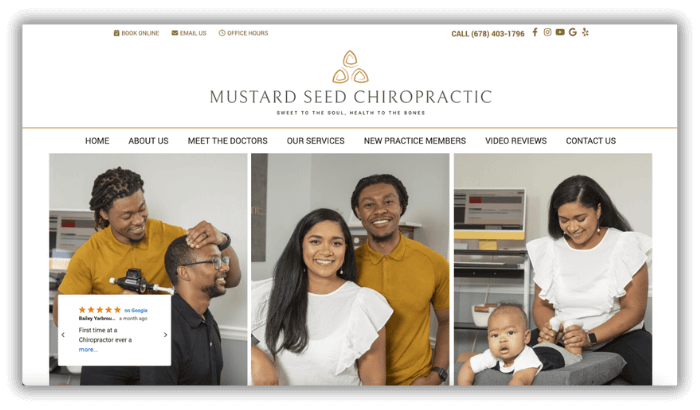 Top Chiropractic Website Designs of 2023:
479 Chiropractic & Wellness
479 Chiropractic & Wellness's website impresses with its minimalistic design, focusing on user experience and professional photography. The clean lines and white space create a relaxed feeling, while the photos of the doctor, patients, and office help visitors make a connection with the practice.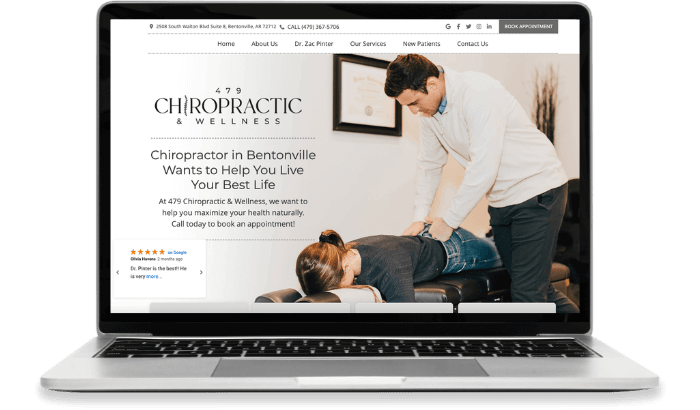 Wellman Clinic
Wellman Clinic's website is a masterclass in color psychology, using a refreshing light blue and white theme that evokes feelings of calm and healing. The site includes actual photos of the doctor with patients and the content speaks to the visitor emotionally, calming any fears and building trust.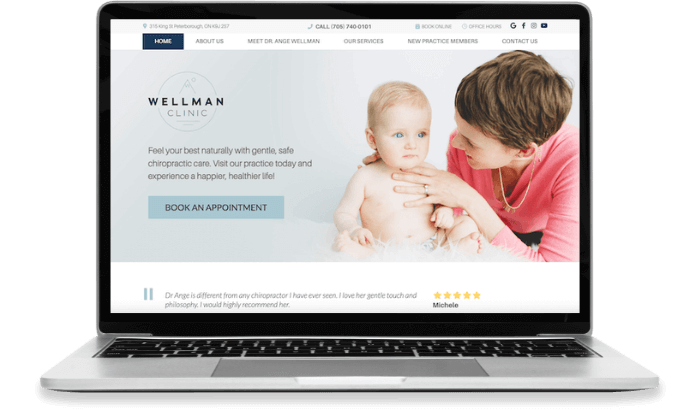 Beyond Wellness Chiropractic
Beyond Wellness Chiropractic's website does a remarkable job of showcasing the energy and vitality of the practice through bright pops of orange and a captivating homepage video showing patients engaging with the doctor and staff, thoroughly enjoying their time at the office.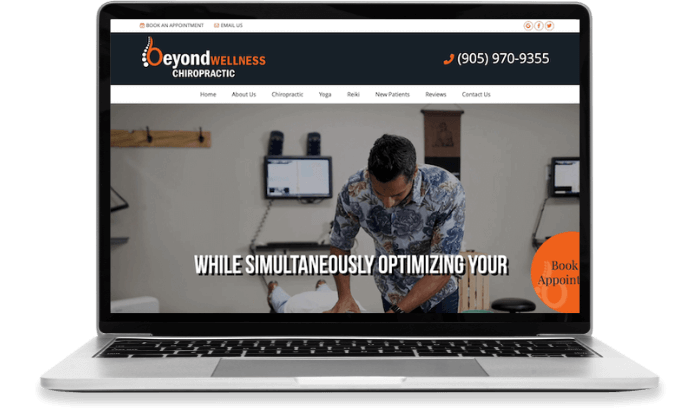 Build The Best Chiropractic Website For Your Practice
Your website is a critical tool for attracting and retaining patients. By making it user-friendly, informative, and reflective of your practice's unique personality, you can create an impactful online presence that serves your practice well. The examples highlighted here demonstrate the best website design strategies for chiropractic clinics and can provide inspiration as you refine your own digital front door.
Book a no-obligation Discovery Call today to see how Perfect Patients help you improve your online presence and create your best chiropractic website.