It's important to respond to online reviews, particularly if you have a patient who leaves negative feedback. Making a thoughtful response to online reviews shows readers that you acknowledge patient concerns and are proactive in improving their experience at your practice.
In fact, studies show that 89% of consumers are likely to use a business that responds to all of its online reviews.
But due to privacy policy regulations, you have to be careful. The health profession is uniquely hampered in its ability to respond to patients online. Even if a patient chooses to share personal information, it's critical that you do not confirm or disclose any protected health information in your response.
It is possible to provide compliant responses, though, so read on for examples!
Use Generalized Review Responses
The best way to prevent yourself from being too personal in your responses is to provide a generalized response. Respond without acknowledging that the person is in fact a patient of your practice.
Here are some examples: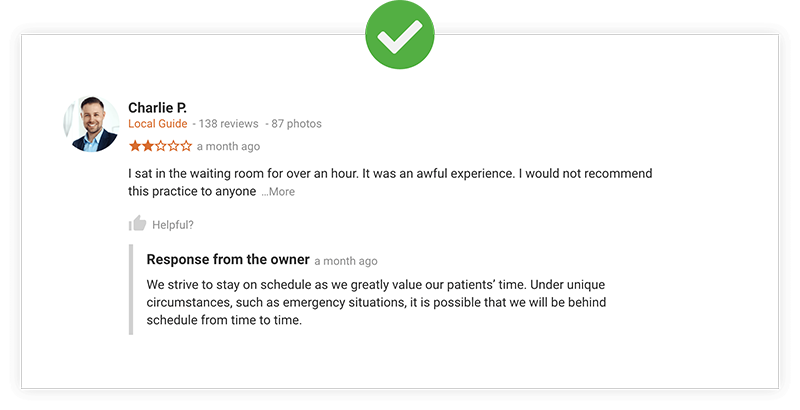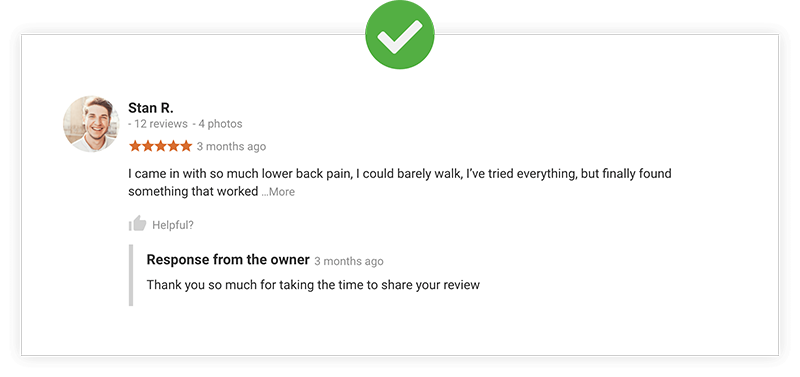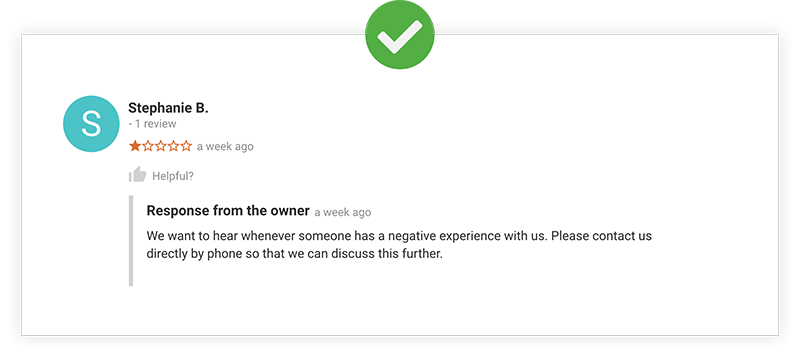 Apologize, but in General Terms
You can always apologize that a person's experience didn't meet up with your standards, but you don't have to go into all the details. Your reviews aren't the place to hammer out disagreements. There are too many opportunities to unintentionally share protected health information.
Possible Negative Review: "The front desk staff were rude and condescending to me, I never want to go back here again"
Your response: "We're sorry to hear that this was your experience. Please reach out to us by phone so that we can learn more"
Review Your Responses Before Publishing
Before hitting that "submit" button on your review response, take a moment to double check.
No reference to a patient's ailment
No protected health information (PHI) – anything that could be used to identify a patient
No dates or times that they visited your practice
Embrace Patient Feedback Best Practices
In addition to considering these privacy implications, we recommend the following best practices in addressing patient feedback online:
If the review triggers an emotional response in you, take some time to reflect before responding. Resist the urge to become defensive or refute the patient's experience.
Don't discuss negative issues via instant message, only through HIPAA compliant channels.
Thank patients even when they share something negative. It puts them at ease when they know their input is appreciated.
Share what your desired patient experience looks like so that people reading your reviews know what you're aiming for.
Take the discussion offline by inviting the reviewer to contact you directly by phone.
If there's something strange about the review, research and see if it might be spam. Fake reviews can be reported to google, but they have strict guidelines for removing them.
Perfect Patients is Here For You
Still feeling unsure about your approach to patient reviews? Need some support? That's what Perfect Patients is for. Whether you're searching for new chiropractic review automation software, or you're an existing client, reach out to us.
We're happy to answer any questions and help you figure out the best way to connect with your patients. Call us today.