From time to time we get furtive calls from clients who are alarmed. "We used to get two or three new patients a month from our website, but now we're not."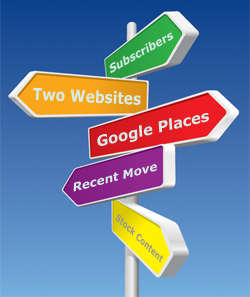 When we hear this, here are the first five places we look first:
1. They've stopped adding subscribers.
Search engine placement is a game of inches. And when compared with some of the busiest websites in the world the 100 to 120 visitors that a typical chiropractic practice website receives each month, every visitor counts. Traffic begats traffic. So, it's essential that your own patients visit your website by reading the newsletter, blog posts or e-Learning. Adding new patients as website subscribers, regardless of their source, is essential. Have you seen our latest video explaining how to add new patients as subscribers?
2. They've added a second website.
Some chiropractors figure that if one website works great, then having another will be twice as nice. Two websites pointing to the same street address confuses search engines, often penalizing one or both sites. Related, is signing with an advertising company that offers call tracking, confusing search engines with a second phone number at the same address.
3. They've claimed additional Google Places listings.
Our SEO team is specially trained to work in Google Places. Making edits that appear to violate these guidelines, such as adding additional listings, a practice name that doesn't match your website or "accidentally" keyword stuffing are some of the ways that you may get removed from local search results.
4. They've recently moved.
Physically moving your practice can have a deleterious effect on your search engine ranking. Especially if you move into what's called "no man's land." Worse, if the address change isn't handled correctly, your move could leave a wake of hundreds of incorrect directory listings across the Internet. Again, confusing search engines and reducing your exposure.
5. They've relied on our stock content.
Years ago, using the stock content we supplied as a guideline for what an "About Us" page or a "What to Expect" page wasn't much of a factor. Today it is. If the only unique content on your site is the Meet the Doctor, Office Hours and Contact Us page, then the lack of sufficient original content may now be the cause of poor ranking and new patient drop off.