Sadly, anyone with an email address is familiar with email spam. And it doesn't seem to be going away. In fact, back in 2010 approximately 89% of all emails were spam! That's about 260 billion spam emails each day.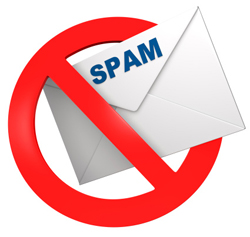 Even though your Perfect Patients webmail does a great job of intercepting spam, there's a new threat on the horizon: website spam.
That's where spambots (computer programs) or actual humans visit your site and place their spam messages in contact forms, appointment requests and the like.
You wouldn't know it, but our software developers have done an incredible job of blocking most of these unwanted messages. We won't divulge their ingenious strategy, but it's incredibly effective. Yet, some spam still gets through.
Naturally, if we don't know what's getting through, we can't eliminate it.
Would you forward the spam you receive from "Patient Appointment Request" and "Website Contact" to: stopspam@perfectpatients.com so we can tweak our spam-squashing filters?
The fact that your website has attracted spammers, means they think your site is worthy of investing their limited resources. Which in a crazy way may actually be a compliment.