You may hear us talk about Google Ads for chiropractors a lot more these days.
The reason?
It's not to "upsell " you. Because, honestly, most of the money you spend goes straight to Google. The reason is that Google is continually evolving the search results, including ad placements and their prominence.
Today, ad space takes up most of the space that appears above-the-fold. Take a look at what comes up when searching "chiropractor Houston ":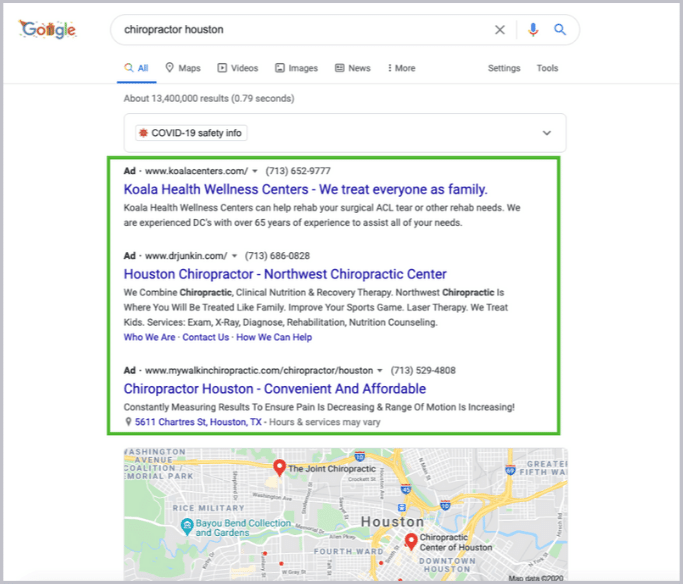 The top three listings are ads. I couldn't even see the maps or organic results on my large computer monitor without scrolling.
While Google has been placing ads at the top of search results for a long time, the way they look has changed significantly, now making it much less obvious that they are ads. This graphic from Search Engine Land demonstrates the evolution of the ads results over time: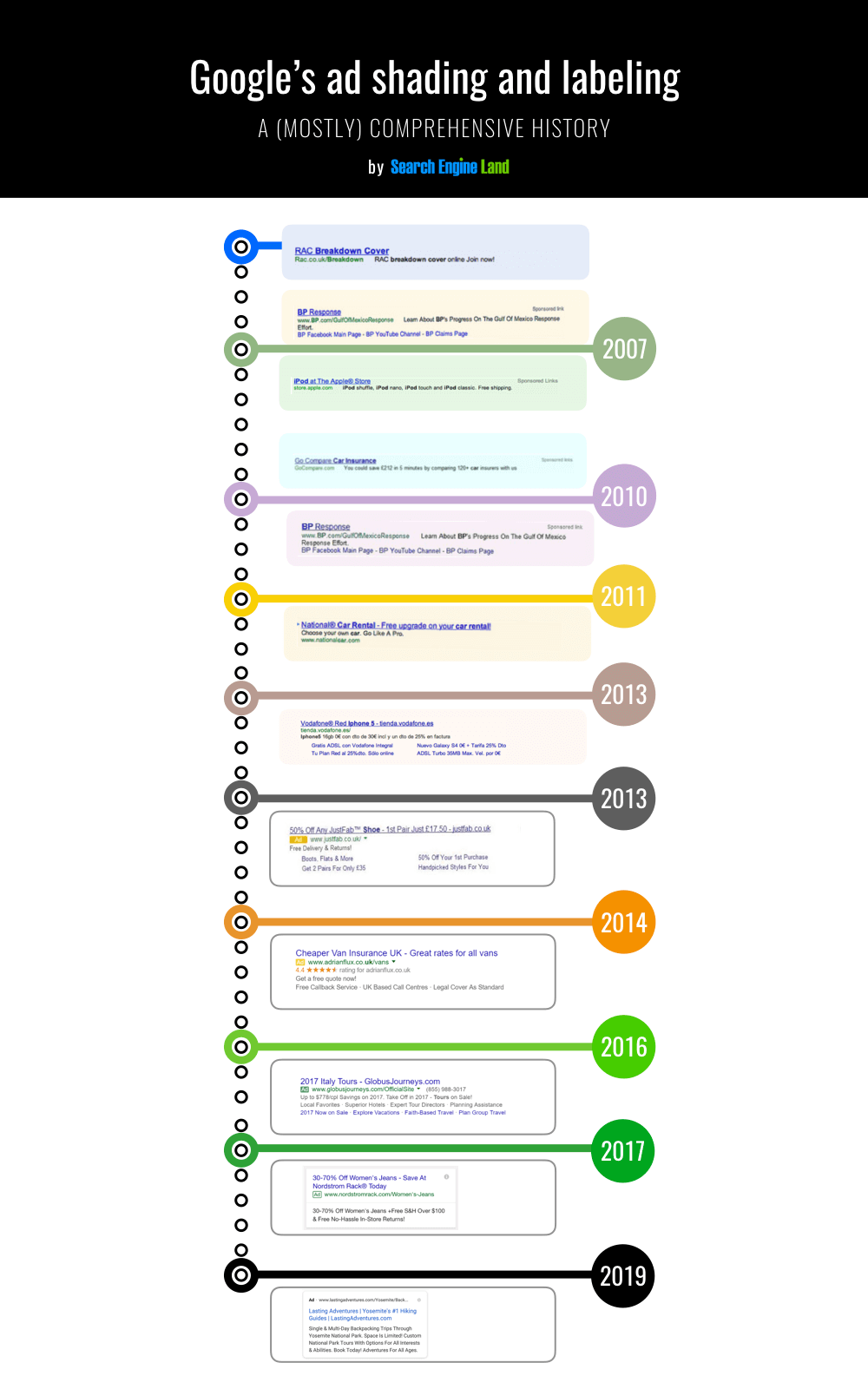 You can see that the ads results used to be highlighted a noticeable color, then they simply had the word "ad " highlighted in yellow, and now they simply have the word "Ad " in black text, making the ads look nearly identical to the organic results.
Quite arguably, ads have never more reflected the look of organic listings."

-Ginny Marvin, Search Engine Land
But Nobody Clicks on Ads… Right?
Wrong. You and I might not click on ads because we know they're ads. But imagine searching for something very specific and seeing a search results page like the one above. One of the ads headlines is tailored to exactly what you were looking for. It has more info about the business than the organic listings below it (phone number, business hours, location, etc.). Whether you know it's an ad or not, you're likely to click on it. Now imagine that you click on it and are taken to a landing page that is, again, carefully tailored to exactly what you were looking for.
Score! You've had a great user experience and are likely to purchase from that business.
This scenario happens all the time. Therefore, when done well, Google Ads are an effective way to get your practice in front of people actively searching for the services you offer.
Reasons to Give Google Ads a Try
There are many different reasons that a chiropractor might want to use Google Ads to promote their practice. Among the most common are that you:
Are opening a brand new practice or launching a new website and want to get new patients quickly (remember: organic SEO is important, but is a long game)
Have a special offer to advertise
Want to get more patients for specific adjunctive services you offer
Want to target prospective patients who live outside your primary jurisdiction (depending on your area and competition).
Google Ads as Part of the Bigger Strategy
Google Ads play an important role in a comprehensive chiropractic marketing strategy. While the strategy that is best for you will depend on your unique practice goals, here's an example of how to incorporate Google Ads into your marketing to create a powerful marketing engine that generates and nurtures new patient leads.
STEP 1: Website Designed to Convert New Patients
The first priority in your digital marketing strategy should be your practice website. A beautiful design that is user-friendly and guides visitors down the conversion path will be the foundation of all of your marketing efforts. A solid SEO strategy will make that website visible in the organic search results.
STEP 2: Google Ads to Send Traffic to Your Site
Increase traffic to your site with Google Ads that are targeting, for instance, people searching for a chiropractor in the adjacent town. With a well-written ad and a high-converting website, you'll likely get new patients quickly.
STEP 3: Retarget Traffic with Facebook Ads
Those that don't convert right away can then be nurtured with Facebook ads. A code added to your site will capture the visitors' information and match them with their Facebook profile. Promote a New Patient Special Offer to capture their attention and convince them that you are, in fact, the chiropractor for them!
Sounds Great, but What's it Cost?
The exact cost-per-click that you'll pay is variable depending on your location, which keywords you're targeting, and your competition. The most important thing to know before implementing Google Ads is what a new patient is worth to you. What is a new patient's lifetime value? Once you know that, you can set a realistic budget that will get your phone ringing.
Learn more about our Google Ads service for chiropractors.