What's your unique selling proposition? Why should a new patient choose you over your competitor?
If you're having trouble answering that question, you're not alone—but it is something you need to get a handle on in order to move forward with an effective marketing strategy. After all, new patients want to choose a chiropractor who knows what they're offering and why it's great.
It's Not Always About Price
To be clear, not all patients are chasing price or the "cheapest chiropractor" in town. So, this is where your competitive edge comes in – to build value so the price is less important.
"A competitive advantage is what makes you better than the competition in your customers' minds." — Kimberly Amadeo, The Balance
Let's take a step back. What are some of your favorite businesses or providers at the moment?
What makes you so happy with your insurance company? There is a reason you choose to keep going back, whether that competitive edge is something as simple as proximity or pricing, or maybe it's their value of service that attracts you to use them.
This same scenario applies to a patient's line of thinking when selecting a chiropractor. Your practice should aim to achieve a similar competitive edge to win more new patients in your area.

Work Smarter, Not Harder
Decide on your path forward to getting (and keeping) more new patients. Here's how you can help establish your edge:
Step One: Identify the kinds of patients you'd like to work with every day. What does your local demographic look like?
Step Two: Come up with three competitors in close proximity to you. Examine their 'brand vibe', target market, and what sort of services they offer. How are they different from you?
Step Three: Speak directly to your ideal patient. Now that you understand your target market, you can speak their language by identifying their needs and wants.
Step Four: Reflect on your passion for being a chiropractor. What do you love most about your job? Answer the question, "I look forward to coming to work every day because…"
Step Five: Niche down. After getting a handle on your perfect patient, demographic, and the type of care you're passionate about providing, consider "niching down." That doesn't mean you shouldn't offer other services aside from chiropractic adjustments on your site, but you should create an emphasis around your gentle, focused techniques and experience in bringing custom care to every person you welcome to the practice.
Consider doing so by creating a special offer around your most sought-after service to hone in on new patient leads looking for relief from back pain or headaches. This is how you create your unique selling proposition – you may already be your area's top chiropractor, but you're not leveraging it yet!
Step Six: Communicate the vision of your practice through your website. This means exploring the WHY behind a new patient's decision to select you as their chiropractor. Build an emotional connection with your potential patient, showcasing personalized photos, a professional biography that highlights your unique certifications and content that compels.
In other words, explore the idea that you do chiropractic differently because of X, Y or Z. Are you a holistic practice that leverages cutting-edge diagnostic tools? Do you re-examine a patient's care plan frequently to determine what's working and change things up? Whatever your vision and differentiation is, it must be marketed.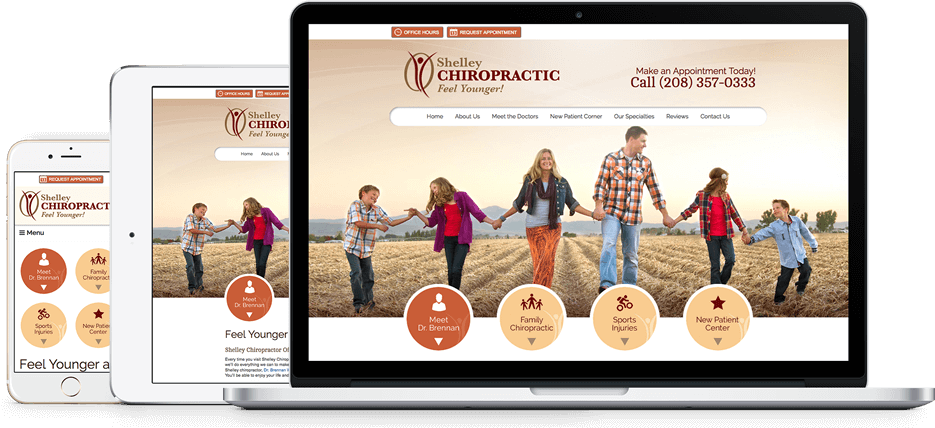 What's Next?
Now that you've decided on the above steps that speak to you and your brand, you've got a clear path forward for marketing your practice and beginning to spread your message.
You'll need:
• A patient-centric, high converting website
• Copy that conveys trust and conversion
• Photography that showcases the heart of your team and practice
• A scalable marketing strategy designed to produce new patients and ties into the bigger scope of your practice goals.
Ready to make 2021 your best year yet? We're here to help.