Google is by far the largest search engine. However, Facebook sees over 1.5 billion searches every day and over 600 million users visit business pages every day. Facebook local search marketing is worth taking seriously. Start by looking for ways to stay ahead of the curve and optimize your social media marketing for local search on Facebook.
Let's take a close look at Facebook's changes to optimize for local search and how you can use the platform to get more new patients.

Facebook Boosts Reviews & Recommendations
One of the strongest forms of marketing is word of mouth referrals. And in today's world, Facebook is one of the most common places for friends and family to give recommendations.
Facebook has recently made the recommendations feature more prominent on business pages. Along with asking for reviews if you've visited a location, Facebook is now asking for a simple yes or no recommendation. This will lead to more responses on business pages and opportunities for reviews.
Not only will these recommendations be added to your business page, but they will also be shared with that person's Facebook friends – Word of mouth marketing in the 21st century.
How does this affect local search on Facebook?
Facebook is very secretive about its search algorithm. Unlike Google, they don't provide guidelines or tips to boost your rankings. However, through multiple tests, one things is certain – Facebook favors pages with high engagement.
So not only will this recommendations feature boost your word of mouth referrals but it will also set your business page up for success with the Facebook search algorithm.
ACTION: Get Recommendations and Reviews from Facebook (pretty obvious, right?).
Plan ahead and request reviews from both Google and Facebook.
Facebook Added the Local Feature to Its App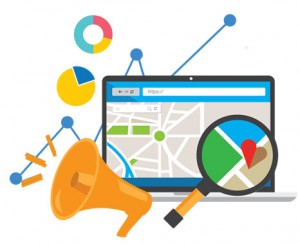 This is the most direct challenge to Google's local search option. The feature within the Facebook app shows locations around you that your Facebook friends have visited and recommended. Again, the weight goes toward locations that Facebook friends have checked into and/or recommended.
In case you haven't noticed, social proof through check-ins and recommendations is a trend with optimizing for local search on Facebook.
This Local feature optimizes an older update called Facebook Places. With Facebook Places local businesses can ensure they are appearing in relevant searches at the top of the list. Facebook Places is essentially your businesses page – as long as you also have an address tied to it.
ACTIONS:
Get recommendations and check-ins on your Facebook page
Make sure your practice's Facebook business page is properly set up with your correct address and information (Don't forget to link to your website too!)
Take a few of these steps forward and start optimizing for Facebook local search so that your practice is ahead of the curve.