Convincing a patient to trust you over a dozen other chiropractors in their area that are just a click away isn't easy. Why should they? To separate yourself from the competition, you must cultivate a bond that stirs an emotional connection.
Sure, referrals can generate new patients quickly. But what about prospective patients who have never heard of you? People who are shopping the Internet for a chiropractor have far too many options. And differentiating yourself from the crowd is essential to winning them over and attracting your "tribe" of ideal patients.

The Importance of Emotional Connection
Emotionally engaged patients have a higher lifetime value. They are loyal. They are satisfied. They make space for you on their busy calendar.
According to Harvard Business Review, emotionally engaged clients are:
Three times more likely to come back
Three times more likely to refer you
Less likely to seek out competition
Twice as valuable on a lifetime bases
By tapping into your current and prospective patients' emotions, you fulfill their emotional needs – whether it be a sense of security, freedom, belonging, or other emotional motivator.
All of these emotions come down to a common link: Chiropractic patients want to get back to living a pain-free lifestyle.
Below are five ways you can help patients make this emotional connection.
1. Stand Out From the Crowd
Differentiation is the principle of setting your practice apart. In an online setting, content is arguably the biggest differentiator.
Nike creates an emotional connection with its customers by exploring their limits with newer products. For instance, they took the benefits of their new LunarEpic shoe and created a simple, yet powerful, message: "Running will never be the same."
So how does this translate to chiropractic? In your content, you can relay to prospective patients that when they embrace your services, their lives will, indeed, never be the same. They can finally get back to doing the things they love.
2. Tell Your Story
Storytelling brings out the "human" in us. Andrew Palmer, co-founder of The New Covent Garden Soup Company, describes how his company was founded:
New Covent Garden Soup Co. was founded in 1987 by Andrew Palmer one cold afternoon. After returning from a morning's sailing, Andrew sat down to lunch. Feeling cold he asked his mother for something warm to eat – rather than the salad he had just been served. With some quick thinking she used the same ingredients to whip up a bowl of fresh, warm, homemade soup to give back to her son… and so an idea was born…
Your website content is where you tell your story. It tells site visitors why they should choose you. Cookie-cutter content doesn't inspire. It doesn't encourage prospective new patients to pick up the phone.
Your story does.
Talk about your interests. Explain how you got into the chiropractic profession. Describe why you are so passionate about helping improve the lives of the people in your community.
This is rapport building 101. Think about what you say to build a bridge with a new patient at your consultation. Now, bring that to your Meet the Doctor page.
Consider the emotional connection you form if you reveal that you were a migraine sufferer. Or the victim of a car accident. No dramatic story? Then reveal the soul satisfaction you get as patients recover their health and the sparkle in their eyes return.
3. Offer a Sense of Belonging
Do you use a Mac computer? Or maybe an iPhone? Are you part of the Apple "culture." Apple is a great example of a brand that provides consumers with a sense of belonging. Whether you're texting on your iPhone or surfing the web on your MacPro, you know you're part of a larger group of like-minded people when you choose an Apple product.
So how do you promote the sense of belonging? The trick is to determine how to make patients feel loved and belong to a larger group. The social web offers a tremendous opportunity to do this. Your Tweets and Facebook posts give patients a platform to talk about their experience at your practice.
Moreover, they can become "cheerleaders" for chiropractic care, as they share the life changing benefits of the service.
The three social media characteristics most important to consumers are: 1. Shares new, consistent content. 2. Shares content relevant to the brand. 3. Engages with the brand's followers.
4. Offer a Sense of Freedom
The idea that patients will feel more "free" is an emotional motivator. Quiksilver appeals to the emotions of excitement and motivation with impressive visual content. For instance, a surfer who is riding a wave wearing a Quiksilver wet suit: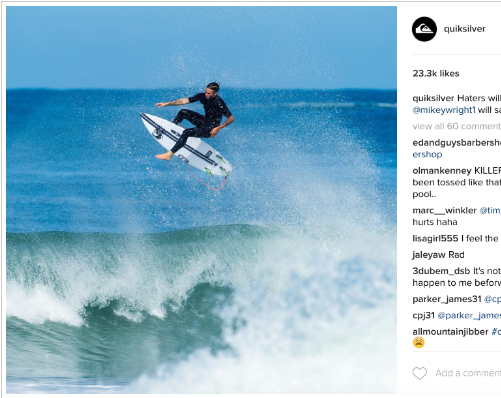 Compelling visual content, such as video and photography, enhances your message with an emotional boost. Seeing you and your staff in action helps patients visualize the freedom your services provide.
After all, good health is freedom. Custom video, professional photography, and patient testimonials all project this emotional motivator.
5. Offer a Sense of Security
Companies like VISA and PayPal tap into their customers' emotions by providing a sense of security. Their marketing message centers around peace of mind. The same goes for Verizon, as they boast the "best coverage" among all other cellphone carriers.
You can do the same for your practice. Health is an emotional topic. If people aren't healthy, they don't feel secure. An effective online marketing plan can offer a sense of security.
Here are some examples:
A current, mobile-friendly website design illustrates that you're up-to-date on the latest chiropractic techniques.
New patient surveys show first-time patients that you constantly look for ways to improve your practice
Monthly newsletters educate patients on the importance of good health
Blog posts showcase your expertise and keep patients informed about chiropractic
Social media shows that you are active and that you care about patient community
Five-star online reviews give prospective patients security that you can be trusted
Embracing an emotional-connection strategy requires a new line of thinking. And by turning this thinking into action, you can build a marketing foundation that actually gets patients excited about visiting your office.
And let's not forget the old adage: People make decisions emotionally, and justify them analytically.