One of the things that is becoming increasingly clear these days as we study the performance of our client's websites, is the increasing diversity of online sources from which new patient traffic is coming.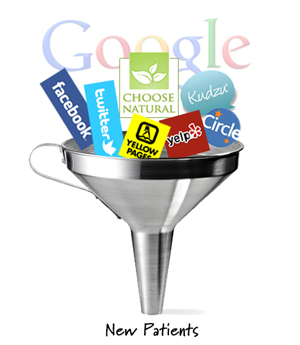 There's no question that when it comes to search engines, Google generates the lion's share of search traffic. In round numbers:
80% Google
9% Bing
7% Yahoo
2% AOL
1% Ask
But there's more to the new patient equation than search engines. Far more.
There are two other sources of new patient traffic that we've noticed is growing. One is Facebook and other social media, and the other falls under the general heading of "directories."
Directories are things like yellowpages.com, merchantcircle.com and even several health practitioner directories. We also include review sites under this heading, such as yelp.com, kudzu.com and others.
Naturally, we're pleased that our own directory, ChooseNatural.com is performing well in this arena. It's often in the number two or three position as the source of new patient visitor traffic for many of our clients.
ChooseNatural.com is a Perfect Patients exclusive. It's designed to compete with orthopedic and pharmaceutical sites, especially for "long tail" search terms such as "natural colic relief" or "natural bedwetting solutions" or "natural sciatica relief."
We intercept those searching on over a dozen admitting complaints you routinely help, but who hadn't thought about seeing a chiropractor. Because you're part of the Perfect Patients family, your practice is automatically listed. Thanks for your faith, trust and loyalty.