With rising costs may come a dip in patient numbers. Here's a look at what you can do now to recession-proof your practice.
The most common small business mistake is to cut back during difficult times. As counterintuitive as it may seem, that's actually when it's time to double-down.
We saw it during the pandemic – practices that kept plugging away at their marketing and found unique ways to stay front-and-center with their patients, had a much easier time getting "back to normal" when restrictions were lifted.

Marketing Strategies to Keep Patients Engaged
One key to successful marketing during the pandemic that still applies today? Communication.
Communicate with your patients regularly. Let them know you see and hear them. That you're feeling the pressure of the economy, too. Let them know they're not alone.
Strategy #1. Add Value
While your patients' utility bills are piling up and they're wondering just how expensive a carton of eggs will be next week, remind them of the value of your care.
Remind them that adjustments keep their bodies functioning at 100% so they can cope with the stresses of life today. You can do this by sending a series of emails on chiropractic and stress management.
But you can add value in other ways, too, that don't involve a direct call to make an appointment.
How?
Send an email with tips for coping with stress 📨
Film a video demonstrating at-home stretches to relieve tension 📽
Share a favorite recipe that has anti-inflammatory benefits 🥗
Being present with your patients, even when they're not physically in your office, goes a long way toward maintaining trust and showing the value of your care.
You may not be able to change your patients' financial situation, but you can support them through it so that they'll come back as soon as they can.
Strategy #2. Be Creative
When businesses were forced to close their doors at the start of the pandemic, we saw a surge in creativity. Creative ways to serve customers, engage, and stay top-of-mind, as well as show that we were all in it together.
The tough economy is no different.
Here are a few creative ways to keep your patients engaging with your practice:
Partner with another local business to host a giveaway or contest (people love free stuff!). Here are some social media contest ideas.
Create, or spice up, your referral program. Encourage your patients to refer their friends and family with referral incentives. Check out these five ways to encourage more referrals.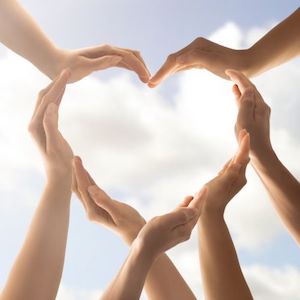 Come up with a special offer. If you're able, offer a "recession discount" by slashing your office visit fee by a few bucks. Can't discount adjustments? How about a massage special or discount on orthotics or supplements? This will show patients that you understand times are tough and that you care so much about their health you'll discount your services so they can continue coming in.
Strategy #3. Get Ahead
Remember: this too shall pass. And when it does, you want to come out on top. Use this time to invest in your online presence.
⏰ When was the last time you updated your website?
⭐ Have you gotten any new 5-star reviews lately?
🥇 How is your practice stacking up against the competition online?
If you've considered updating your website or improving your online presence, now is the time to act.
When people are ready to spend again, you want them to spend with you. Therefore, you need a current website that showcases that special something that causes new patients to choose you. And it needs to be findable online.
Request a complimentary website evaluation by a chiropractic website expert. You'll get actionable tips for improving your online presence and learn how Perfect Patients can help you get ahead in a tough economy.
In It Together
If you have any other tips for recession-proofing a chiropractic practice, we'd love to hear them! Share in the comments below.