One of the native features of your website when it's migrated to our new platform is a blog. (A word resulting from the combination of "web" and "log.") As part of your service, we'll be making a post each week on your behalf in lieu of our mid-month Health Interests articles.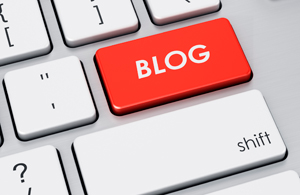 Google loves fresh new content. That's why Google loves blogs. The original posts that you or your team make can have tremendous value. And while the posts don't have to be long, regularly contributing to your blog sends helpful signals to search engines. Which raises the two questions, "What if I'm not a writer?" and "What should I write about?" Here are some answers.
"What If I'm Not a Writer?"
No problem. You don't have to be. A blog post can be something as short as this paragraph. Length doesn't seem to be as important as regularity. Being confronted by "writer's block" is just another way of saying, "I don't have anything to say right now." (Read some ideas below to spark your imagination.) And if you're not a writer, maybe someone else on your team is. Or some patients might want to contribute.
Still, if even the thought of writing a postcard-length blog post seems daunting, our new blogging service might be helpful. Each month we'll conduct some brief interviews on the telephone and our writers will fashion them into original blog posts for you. Easy!
"What Should I Write About?"
Google alerts: Sign up for Google alerts. Let's say you're seeing great results with iodine supplementation. Tell Google that you want to be notified whenever the topic of iodine is added to the web. Each day you'll get links to sites that contain that keyword. Post a short critique on your blog or a suggestion for your patients to go read it.
Case studies: Have you had a patient recently recover their hearing? Or conceive after years of trying? Or had a wonderful resolution of migraine headaches? Write a paragraph or two about the case. You don't even have to use the patient's name. Speak in general terms about the patient's age, background, experience, your program of care and what happened.
Why I love mycity: When someone searches for a chiropractor, search engines know it's a local search. So, show up as the local chiropractic authority and the local authority in your community by writing about your favorite haunts, popular sights, preferred restaurants, community events and the like. Express yourself and be seen as an expert.
Write a short profile about a procedure, therapy or service you provide. With the appropriate permissions, write a short profile on your oldest patient, youngest patient, the patient who travels the furthest, the patient you've seen the longest, etc. Write about what interests you, inspires you and makes chiropractic so fulfilling.
And remember, blogs don't have to be just words. Pictures and video clips with just a sentence or two work well too. Blogging is really just about sharing information to a target audience so don't overlook sharing your posts on Facebook, Twitter or Google+.