Thinking of Switching Chiropractic Website Providers?
The right chiropractic digital marketing agency makes it easy for you to stay on top of your website with:
Practical, actionable advice
Proven digital marketing strategies
Responsive and friendly service
Does that sound like what your website vendor is doing for you?
If not, maybe it's time for a change.
Here are five reasons to switch to Perfect Patients:
#1: Your digital marketing team is hard to reach
Your website and digital marketing should be easily accessible through a website dashboard and/or responsive client service team.
At Perfect Patients, our client services team is available during regular business hours in the regions where we operate. They respond to requests within one business day and often can get back to you within just a few hours.
Premium and Ultimate Plan clients have a dedicated Digital Marketing Specialist that monitors website performance and proactively strategizes to maximize your search engine traffic and marketing results.
#2: Your website isn't tailored to your ideal patient
Does your website make it obvious who your ideal patient is?
Does it reflect the way you provide care?
Does it showcase what it's like to be your patient?
If the answer to any of these questions is no, you might want to consider a different provider.
Perfect Patients designs aren't just about how they look, though they are beautiful. All the lessons we've learned building thousands of chiropractic websites over the years go into our designs.
We spend time understanding:
Your ideal new patient
The questions they're looking to answer
The journey that helps them book an appointment with you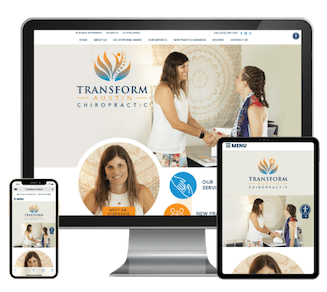 Sometimes this means that we are very particular about how a design is implemented. Some designers will spend hundreds of billable hours to add unnecessary animations, or design elements that won't convert new patients.
Perfect Patients is committed to patient-first websites that showcase your level of care from the first click.
This saves you money AND delivers more new patient appointments.


#3: Your website provider doesn't offer an ongoing digital marketing strategy
Chiropractic website services largely depend on the type of website provider you choose.
A freelance website designer might not always offer ongoing strategy; they might be done once they launch the site.
A domain company might offer a simple, inexpensive website design, but no assistance on SEO or content creation.
That's why a digital marketing agency like Perfect Patients can be so helpful. There's a plan that works for you, depending on your new patient goals, all starting with a high-converting website. Some Perfect Patients plans offer ongoing digital marketing strategy and others empower you to do it yourself.
Our Essential Plan pairs wonderfully with our Google Ads service so that you spend more time with your patients and less time actively pursuing more new ones.
If you're looking to improve your website rankings and reach more people, the Premium Plan pairs you with a Digital Marketing Specialist. They monitor your website performance and offer content, email marketing, and social media strategies to get you in front of as many potential new patients as possible.
The Ultimate Plan includes everything in our Premium plan, plus a dedicated SEO manager, geographic exclusivity, our review automation platform Get Reviews, and more for those in highly competitive situations.
#4: Your website performance statistics are trending downwards
One of the most important parts of having a website is knowing that you're getting a return on your investment. The best website design agencies offer reporting to make it as easy as possible for you to know exactly how your website is doing 24/7. Some even offer Digital Marketing Specialists to guide you through these reports to help you understand what can be done to improve that performance.
Here are some website performance red flags:
You're ranking lower than the first 10 spots of Google's search results for your local area
The number of new visitors to your website from search engines has dropped consistently over the past six months.
You have a bounce rate that exceeds 60%.
The conversion rate of people who visit the website and go to your contact us page is consistently lower than 12%.
When you bring concerns up to your web provider, they do not have strategies to improve your website visibility.
#5: You know it's time for a change
Sometimes it's a little hard to quantify when we have to make changes in our lives. We just know that we can't keep doing the same thing over and over and expecting a different (better) result.
Partner With A Chiropractic Website Provider Who Gets YOU
Are YOU feeling like it's time for a new website provider? Book a discovery call today, to see if the Perfect Patients digital marketing approach is right for you. There's no obligation, and often we both come away learning something new.