Did you know you can beef up your Google Maps listing with posts announcing special events, services, or products? This new Google My Business feature allows you to appeal to more new patients right in your search results listing. And it may even give your ranking a little boost.
Why Google My Business is So Important
A Google My Business listing is a critical factor in any successful chiropractic SEO strategy. Having an accurate listing enables your practice to appear in the maps section of Google search results.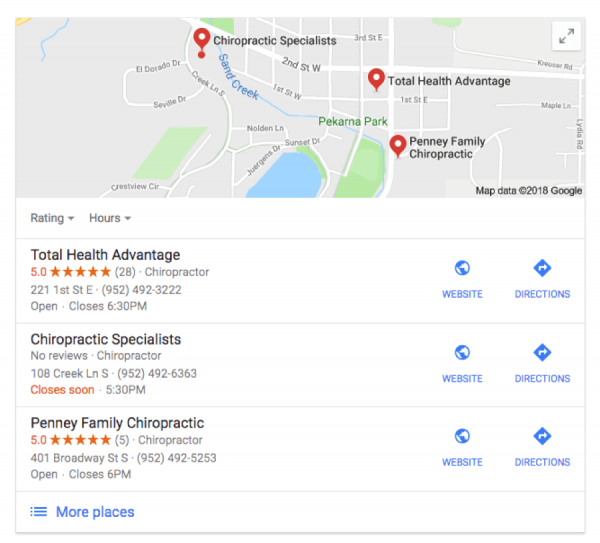 If you're a Perfect Patients Standard or Premium client, we will assist you in claiming and optimizing your Google My Business listing. Continue reading to learn how to post to your account.
Creating a Great Post (Plus, What Not to Do)
When you think about "posting" something, you probably think of social media posts. This is very different. You're not going to post photos of your delicious brunch or your son's soccer tournament to your Google My Business account.
What you can post instead are special offers and announcements. Running a new patient special this week? Post it. Staying open late on Friday? Post it.
Google My Business posts are meant to be timely. Up to 8 of your most recent posts (appearing from newest to oldest) appear when users search for you on Google. If you have more than one post live, the newest one will show up first with the rest displayed in a carousel format.
Google suggests that your posts:
Be brief
Be useful
Inspire action
Include a well-lit, in-focus photo
Before drafting your post, think about what you want your post to do. Are you trying to encourage new patients to schedule an appointment, announcing an upcoming event, or perhaps just sharing new practice hours? Have a goal in mind so that your post is focused (there is a character limit, so short and sweet is the way to go).
Also make sure that you have a high-resolution photo to go along with your message. This helps your post stand out. You want your image to be in-focus and well-lit with vibrant colors.
Remember: you want your post to stand out. A blurry photo of your front office isn't going to cut it.
Remember that character count we mentioned? You get up to 1,500 characters, but Google recommends sticking between 150 and 300 characters. So be succinct. And don't forget your call to action – "Call today", "Schedule an appointment", etc.
Here's an example of a compelling post: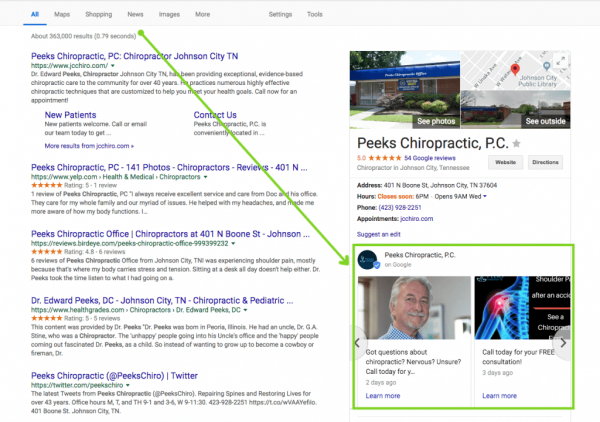 Now for a couple of things you don't want to do…
Don't go crazy with exclamation marks or capital letters
"New Patient SPECIAL!!!!!!!"
Don't include more than one offer/piece of information per post
"25% off one-hour massages thru Friday, open late on Wednesday, and $40 new patient exam."
Don't post a bad photo
Spend a little extra time getting a high-quality photo for your post. If you're not comfortable taking your own photos, try looking for relevant images on a free stock photo site like Pixabay. (Do not use just any photo you find in a Google image search. Copyright restrictions may apply.) The best image size is
750px x 750px.
How to Create Your Post
First, sign in to your Google My Business account. (If you have more than one location, select "Manage Location" for the location you'd like to post to.)
Next, select "Create post." You will now see the option to add text, photos, buttons, and more to your post. Enter your information and click "Preview." If you like what you see, select "Publish" in the top right corner of the screen.
If you'd like to post using your mobile device, download the Google My Business app to make it easier.

Start Posting Today
There you have it! An easy new way to make your business listing stand out in the Google maps results. And while there's no guarantee that it will help your ranking, evidence suggests that in some cases it may. So if your maps listing needs a boost, give posting a try.