Did you know that 85% of consumers trust online reviews as much as personal recommendations? That means your online reputation is just as important as your real-world reputation.
Still not convinced? Here are a few interesting statistics about the way 21st century consumers view online reviews:
Positive reviews make 73% of consumers trust a local business more
49% of consumers need at least a four-star rating before they choose to use a business
30% of consumers named review responses by the local business as key when judging the business
Consumers read an average of 7 reviews before trusting a business – up from 6 in 2016
So now that we've established the importance of reviews, let's talk about how to get these reviews and what the rules are around collecting online reviews for your chiropractic practice.
How Not to Get Online Reviews
Here are some of the best practice guidelines in chiropractic marketing for getting online reviews:
Don't pay for reviews – Don't pay patients for reviews, marketers for reviews, or people to pose as patients for reviews (It may seem obvious, but people do it.)
Don't review your own practice or ask your staff to review it – All reviews should come directly from your patients. Google can tell the difference (IP addresses and Google account logins will give it away).
Don't set up a review kiosk in your reception room to ask for reviews – A single IP address with multiple posts on the same platform will cause those reviews to be flagged and taken down
Don't negatively review your competitors – This goes against the guidelines of most review platforms
Don't narrow your focus to a single review site – It's better to diversify your reviews so that all of your chiropractic marketing eggs are not in the same basket.
Don't forget about your own website – it's an important platform to feature honest reviews and fresh testimonials
This may seem like a lot of don'ts but once you've mastered avoiding these pitfalls, you can move on to experimenting with how to get more online reviews and boost your chiropractic marketing.
How to Get More Online Reviews
It's a great goal to have at least seven reviews on a Google My Business listing. After that, it's better to diversify where you ask your patients to leave reviews. Aim to get reviews on sites such as Yelp, Yellowpages, Facebook or other review sites popular in your area.
How to Integrate Online Reviews into Your Overall Chiropractic Digital Marketing Strategy
Online reviews are just one of the five factors of chiropractic digital marketing. It's important to incorporate your reviews with the other factors. For example, display your reviews on your website for some fresh content and it will help visitors to your site get to know you with a little "social proof". It's best to make sure they are organized in a consumable way – Think quality over quantity. Here is an example of how to display the reviews on your website: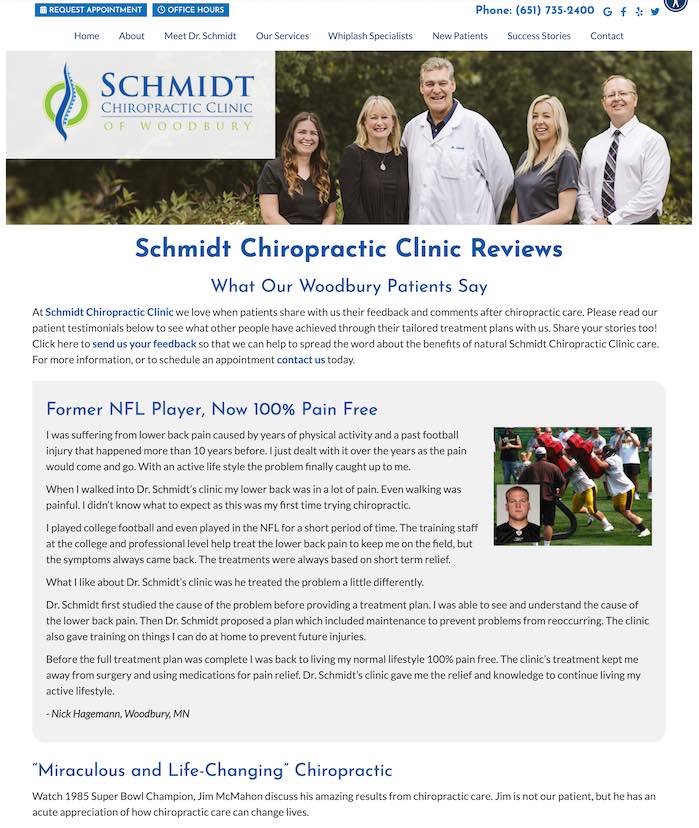 They have the key reviews and testimonials on the first page but there is an option to see more without overwhelming visitors at first glance.
Here's another recommendation from Alicia on how to incorporate online reviews into your overall chiropractic digital marketing strategy:
Publicly thank patients for reviews. If your patients post a great review, head over to Facebook and write a post something like this:
"Wow! We are beyond humbled by this awesome review of our practice. [Link to review] We have the best patient community and are so grateful to serve you."
So that's why online reviews are important, the do's and don'ts, and how to integrate your online reviews into your chiropractic digital marketing. Online reviews are vital to 21st century chiropractic practices. They can be key in getting more new patients from the Internet.
Sources:
https://www.brightlocal.com/research/local-consumer-review-survey/