Use Posts To Make the Most of Your Google Business Profile
When potential patients search for chiropractors in their area,
Google Business Profiles (a.k.a. GBP's) are often the first results to appear.
A complete and regularly updated profile gives your practice an edge, making it more likely to be featured in Google's "Local Pack" and map results.
But did you know that you can also add posts to your Google Business Profile?
Posts that share promotions, news and special events draw more attention to your business and appeal directly to your patient audience.
Read on to learn about Google Business Profile posts, how they can boost your website SEO, and learn step-by-step instructions on how to add posts to your GBP.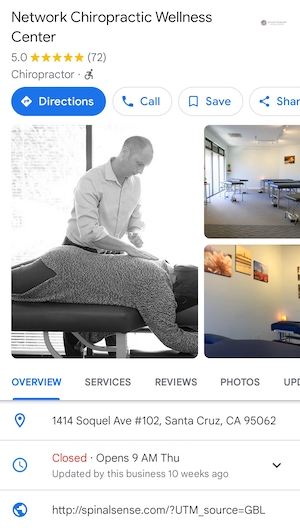 The SEO Benefits of Posting on Your Google Business Profile:
Your Google Business Profile was NOT designed for you to "set it and forget it".
Continually adding updated content to your GBP like photos, updated business hours, and posts will catch the eye of potential patients searching for a chiropractor.
Consistently maintaining your GBP can:
Improve Local Search Rankings: Your Google Business Profile plays a crucial role in local SEO. Regularly posting relevant content and keeping your profile up-to-date signals to Google that your practice is active and engaging, which improves your chances of ranking higher in local search results.
Boost Visibility of Your Relevant Keywords: By using targeted keywords in your posts and descriptions, you increase the likelihood of appearing in search results when potential patients use those specific terms to find chiropractic services.
Increase Traffic to Your Website: Engaging posts on your Google Business Profile can drive traffic to your practice website. As Google sees traffic coming from various sources, it interprets it as a positive signal of your website's authority and relevance.

What Can You Post on A Google Business Profile?
There are three types of posts that you can share on your Google Business Profile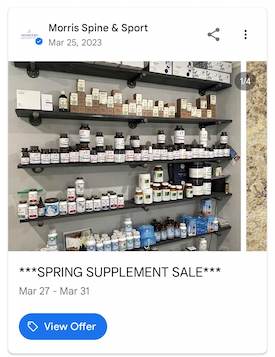 1) Offers: Boost Sales with Promotions.
Create compelling offers, like a new patient special, with titles, start and end dates, and times.
Add a photo, video, description, coupon code, link, and terms and conditions.
A "View offer" button will automatically be added to your post.
Your offers will appear near the top of your Business Profile on Google Search and Maps, as well as in the "Updates" tab.
2) Updates: Keep Your Audience Informed.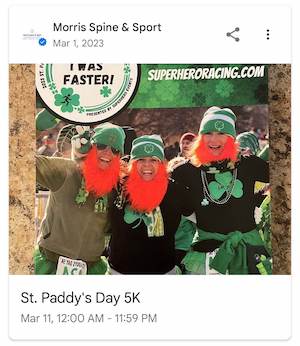 Share news about your business. Use this type of post as a way to give them an inside look into your practice, educate users about chiropractic care & how the spinal & nervous systems work, talk about doctor specialties and training, Don't be afraid to have a personality.
Include a photo or video and a description.
Add an action button to engage your audience.
For example, you can post to promote a new service or staff member.
3) Events: Excite Customers with Special Events.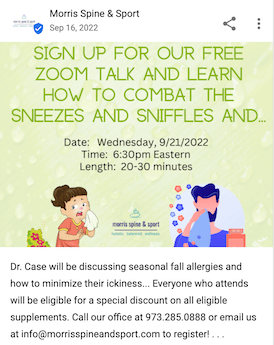 Announce upcoming events such as an open house or workshop at your practice.
Provide the event title, start and end dates, and time.
Enhance your event post with a photo, video, and description.
Include a call-to-action for added engagement.
For instance, advertise a patient appreciation day with discounted services and free treats.
Key Takeaways: Visuals (images or videos) and calls-to-action will make your GBP posts more effective.

How to Post to Your Google Business Profile:
Please note that this process does change occasionally. Google has their own step-by-step instructions listed here:
Go to your Business Profile.
Select Add Update.
Choose the type of post you want to create.
In the dialog box, fill in the details.
Choose to publish or preview your post.
As a chiropractor looking to attract more new patients and enhance your online presence, maintaining an active and optimized Google Business Profile is a necessity.
With its potential to boost your SEO efforts and attract new patients, leveraging your Google Business Profile can be a game-changer for your practice.
What are you waiting for? Start posting on your Google Business Profile today.
Need More Chiropractic Digital Marketing Strategies?
Book a Discovery Call with one of our experienced Perfect Patients Digital Marketing Consultants today.