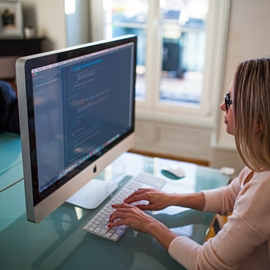 Simply having a practice website isn't necessarily going to convert new patients. Not only does it require strategic design, your website also needs to be promoted. Sure, your time is limited. So promoting your chiropractic website may seem like a daunting task. But it doesn't have to be.
There are a number of ways to improve your online presence without forfeiting the time you could be spending with patients. Rather than shouldering all the weight yourself, enlist some of your staff members. It doesn't take a background in technology – just a little bit of time and effort.
Consider these four simple ways your team can help you enhance your online presence.

1. Publish New Content Regularly
Your office staff are experts at fielding answers to patient questions. Many of these answers can be turned into compelling blog posts. For example, a patient calls in and asks, "How do I use my insurance benefits in your practice?" Your staff is likely to give a thoughtful answer and then encourage the patient to set up an appointment.
Your staff can translate these conversations into blog posts, which will help boost the authority and rankings of your website. Perhaps more broadly, have your front desk team list the typical questions they are asked and publish the answers on your site in the FAQ section. Search engines are more willing to trust websites that publish fresh and unique content.
2. Promote Your Website to Patients
Directing existing patients to your website helps keep your practice top of mind. Having a beautiful website with quality content is a great first step. But it's important that your patients actually know you have a website. Promote your site offline by including the URL on brochures, business cards, and newsletters.
You can also promote your site to new patients who make inquiries. For instance, if a prospective patient calls into your office, have your front desk CA mention your URL so patients can learn more about you and your services. The more they learn about you, the more comfortable they'll feel working with you.
3. Be Prompt With Website Inquiries
These days, many people prefer corresponding via email than over the phone. This is why it's important to be prompt when responding to website inquiries. Because your office staff is already answering phone calls to schedule appointments, they should be able to respond to email inquiries as well.
Be sure that your staff is following proper email etiquette. After receiving a website inquiry, it's best to respond within 24 hours – preferably sooner. People expect quick answers, so when response times lag, prospective patients may choose to go elsewhere.
Bonus tip: Make sure that your staff includes a clickable website URL in their signature. This provides patients easy access to your website.
4. Take Advantage of Social Media
If you haven't already created social media pages, now is the time to do so. Social channels like Facebook and Twitter are a great way to promote your chiropractic website. Doing so effectively, however, requires consistent effort. By posting regularly on social media (ideally, a few times per week), you'll improve patient retention and boost patient referrals.
Social media can also improve your website's SEO. Sharing a helpful tip with a link back to your blog shows Google that your website is an authority. It's important to keep your social pages interesting and educational. In doing so, you'll promote repeat appointments and persuade prospective patients that you are the go-to chiropractor in their area.