Get ready to step up your chiropractic marketing strategy. We outline 10 digital marketing ideas you can implement quickly to enhance your practice marketing and start seeing more new patients in 2023.
Just take on one or two of these ideas every month and you'll start seeing increased website traffic, patient reviews, and booked appointments.
#1 – Focus on E.A.T.
Perhaps the most important digital marketing advice for chiropractors we can give you going into 2023 is to focus on E.A.T. – Expertise, Authoritativeness, and Trustworthiness. Website content, particularly in the healthcare field, is under greater scrutiny than ever before. Therefore, it's vital to establish yourself (and your brand) as a trustworthy, reliable authority in your field.
"Expertise, authoritativeness and trustworthiness are the three most important aspects of a website that Google uses to evaluate its quality."
How do you do this? By contributing content to authoritative websites across the web. Whether it's an interview in a local paper, a guest post you've written on a credible blog, or mention of you in an online article, these things, when on legitimate, reliable websites, tell Google that you are an expert and authority in your field. It tells them they can trust you and the brand(s) associated with you, thus helping your rankings.
Ways to improve your EAT:
Have a patient that's an "influencer"? See if they'd be willing to feature health tips from you and have them link to your website and tag your practice social profiles.
Sign up for HARO alerts to be notified when reporters are looking for sources for health-related articles.
Get involved in your community. The more connections you make with other businesses, the more opportunity to get quality backlinks or mentions of your name and practice.
If you're a Perfect Patients Premium client, contact your Digital Marketing Specialist to discuss ideas for improving your expertise, authoritativeness, and trustworthiness in the eyes of Google.

#2 – Update your website
When was the last time you updated your website design? With a shelf life of only 3-5 years, it's important to keep your website up-to-date. And, most importantly, it needs to be designed to convert new patients. If you're not sure if your website is conversion-friendly, ask yourself the following:
Does my website…
Clearly differentiate my practice, making it obvious why someone should choose me as his or her chiropractor?
Reflect my ideal patient? (i.e. children, auto-injury cases, athletes, etc.)
Look good on desktop computers, tablets, and smartphones?
Effectively persuade, through professionally written content, prospective new patients to choose me?
Have professional photos of my office, my team, and myself? (This establishes trust in potential new patients.)
Guide a visitor toward scheduling an appointment with appropriate calls-to-action?
See a few areas of your website that could use improvement? Update it today. Need a major website upgrade? Contact a chiropractic website design company who offers a comprehensive chiropractic digital marketing solution such as Perfect Patients.

#3 – Email marketing still works
It's as important as ever to nurture your existing patient relationships. An email marketing regime keeps your practice top-of-mind and allows you to promote adjunctive services.
With all the uncertainty in the world, communicating clearly with your existing patients can be what keeps your practice going. That's why we've been providing our clients with email templates and other relevant, timely content regularly. Our premium service subscribers enjoy custom written email blasts, which can be used to promote events, special offers, and referrals.
The stronger your relationships are with existing patients, the more referrals you will get. Not sure what to send to your patients? You can start with a monthly newsletter that offers chiropractic, health, and wellness advice. The Perfect Patients service includes a monthly newsletter that, after you preview and edit if you desire, is sent to your patients on your behalf.
Another great way to communicate with your patients is by sending them an annual birthday greeting (another feature of the Perfect Patients service). We've found that these greetings often prompt patients to schedule an appointment in an effort to get their health back on track as they turn another year older.

#4 – Manage (and get more) reviews
Go to Google and search your practice name. Then, search your name. Pay attention to any review sites that appear in the results and look to see if you have any reviews. If you don't have any, now is a good time to setup your profile on reviews sites such as:
Yelp
Vitals
Healthgrades
Doctor.com
ZocDoc
RateMDs
Wellness.com
CareDash
RealPatientRatings
Google My Business
It's important to maintain your online reputation. Check to see that you have claimed your profiles and they are complete with accurate information. Read through your reviews and thank reviewers who left positive comments. Don't panic if you have a negative review. Read our post "How to Provide a Compliant Response to Online Reviews" for tips on responding to them.
With so many review sites, it can be helpful to use a reputation management service to easily monitor your most important listings like Google and Facebook. The Premium Perfect Patients plan includes a reputation management dashboard for review monitoring and sharing. Even more features – like automated review requests and two-way patient texting – are available through Get Reviews, an add-on to Premium and included in our Ultimate plan.
"A blend of good reviews and bad reviews shows that you aren't trying to hide anything, and makes the good reviews seem more sincere."

-Jayson DeMers, Forbes Contributor

#5 – Be social!
If you aren't active on social media, you're missing out on an opportunity to boost patient retention and referrals. Interacting with your patients on sites like Facebook and Instagram keeps your practice top-of-mind, triggering repeat appointments and increased referrals.
Share health and wellness tips, interesting articles, and link to blog posts from your own practice website. Not only does this strengthen your relationship with existing patients, social engagement on the posts linked to your website sends positive "social signals" that may just help your website's Google rankings.
Read our popular post 29 Chiropractic Facebook Post Ideas to Make You a Social Media Genius for actionable tips and free graphics.
Not enough time to create engaging posts for social media? Consider our Social Media Content Service and let us take the hard work away and manage it for you!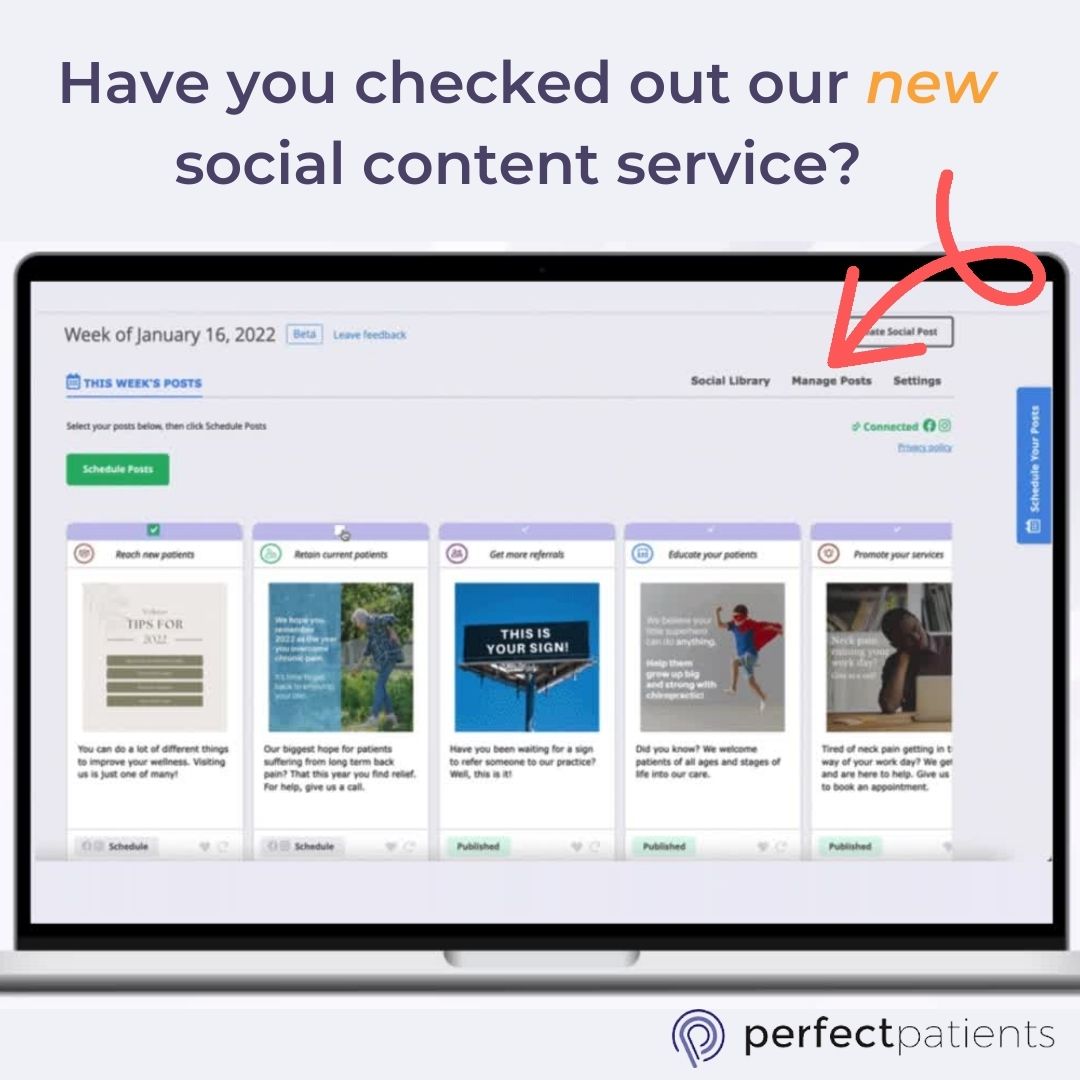 #6 – Blog regularly
Google has made it very clear that they like websites that are regularly updated with high-quality, informative content. Because they're in the business of answering their customers' questions, they favor websites that effectively answer those questions. Does your website content answer common new patient questions?
Blogging can help you gain favor in the search engines and convert new patients by effectively answering common questions and providing useful information. Regular blog posts on health and wellness topics, chiropractic services, and things your practice is passionate about shows your patients that you are an authority in your industry and you want to help them live their best lives.


BONUS: Free eBook
10 Ways to Get New Patients from the Internet
Fill in your details below to receive your free copy of our most popular eBook ever! You'll get 10 detailed strategies for getting more new patients from the Internet.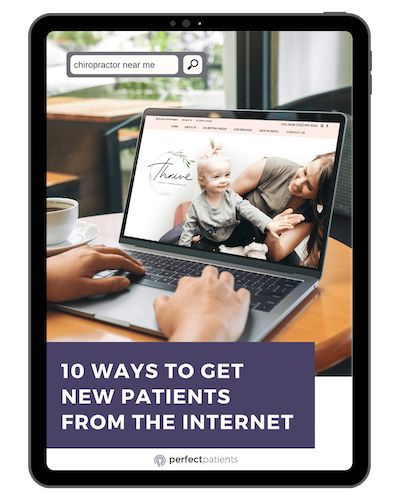 #7 – Get involved in your community
You can never go wrong participating in your community. Aside from getting your practice name out there, you show everyone that you care about the community as a whole. Donate to a local charity, sponsor a pee-wee football team, or create a scholarship for local students. Many non-profits will share links to their sponsor websites, which offers you a valuable backlink that can support your website rankings for years to come.
Be sure to add an Events page to your practice website that you update regularly with the local events your office will be participating in. Share the events with your existing patients and encourage them to participate with you via email blasts and social media. These types of initiatives not only show website visitors that you're invested in your community, you show patients that you truly care. A win-win.

#8 - Add patient testimonial videos
If permitted in your jurisdiction, add patient testimonial videos to your chiropractic website. This type of "social proof" allows website visitors to see first-hand accounts of your happy patients' experiences.
Filming these videos isn't as difficult as you may think. Look at our infographic that details how to film testimonials yourself with a smartphone. (And don't forget to have your patients sign a consent form before you film.)

#9 - Evaluate office procedure
While evaluating your chiropractic marketing strategies, don't forget to look at what is going on inside your office. When your chiropractic marketing initiatives get prospective patients to call, is your staff converting them? Are they knowledgeable about your services and effectively answering new patient questions? Are calls being answered or are too many being put on hold?
Your digital marketing doesn't mean anything if you can't get callers to schedule their first appointment. Go over these tips with your staff to make sure calls are being handled appropriately.

#10 - Advertise with Google Ads
Want a chiropractic digital marketing initiative that will send patients who want to see a chiropractor today? Give pay-per-click (PPC) advertising a shot! Google Ads, for instance, gives you the opportunity to target local residents who are specifically using Google's search engine to find a new chiropractor. Select the search terms you want to target, create your ads, and link your ads to a special landing page on your site. You only pay for the ad when someone clicks on it.
While Google Ads sound simple, we find that you get the most new patient leads for your ad spend when you hire a team to manage your chiropractic PPC advertising.
PPC is often a great idea for those who have just launched a brand new website or are located in a particularly competitive jurisdiction. And with ads taking up a large portion of the best real estate in the search results, it's a good way to make sure your practice is "seen" by locals searching for a chiropractor.
Just be sure any team that manages your PPC campaigns offers call tracking so that you can review all of your incoming google ads calls. Reviewing these calls offers many opportunities to improve your front desk's patient conversion rate, and maximizes your Google Ads return on investment.
Ready to Expand Your Online Presence?
Book a discovery call with one of our digital marketing consultants in the calendar below. If there aren't any times that work for you, feel free to call us directly to schedule.
In this free, no-obligation consultation, we'll study your practice, local competitors and share some concrete ideas on how to boost your new patient flow.